Step 4: Cinegy Playout Configuration
Reading time ~2 minutes
The Cinegy Playout configurator can be opened by right-clicking the dashboard icon in the tray notification area, or from the start menu here:
Start > All Programs > Cinegy > Cinegy Playout x64 Config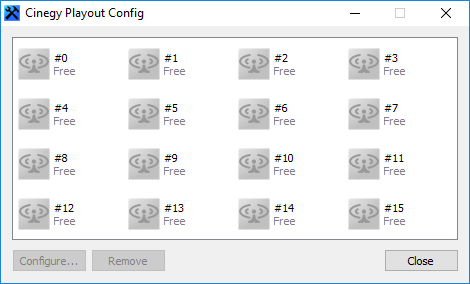 When the configurator is open for the first time, no instance is configured. Select any "Free" instance and press the "Configure…​" button to specify all the necessary parameters.
| | |
| --- | --- |
| Note | The configured instance number should be specified in the "#" field next to the defined engine server in the Cinegy Air configurator. |
| | |
| --- | --- |
| Note | A separate license should be purchased for each Cinegy Playout instance. |
On the "General" tab, specify the instance name. You can optionally choose the media files that will go to air in case of network errors and define the remote Event Manager server for executing external commands.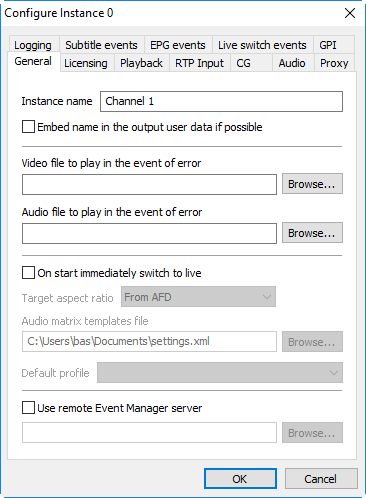 On the "Licensing" tab, select the "Cinegy Air PRO" connection to allow Cinegy Air PRO client to connect to the corresponding Playout engine.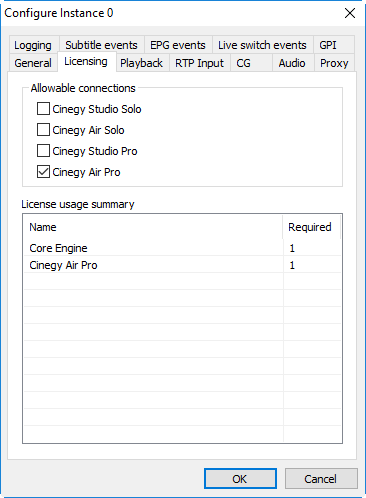 If you have installed Cinegy Air SOLO, select the "Cinegy Air Solo" connection.
The "License usage summary" grid will show amount and types of required licenses.
On the "Playback" tab, define the basic TV video format system you want to use for broadcasting; set one or several channels.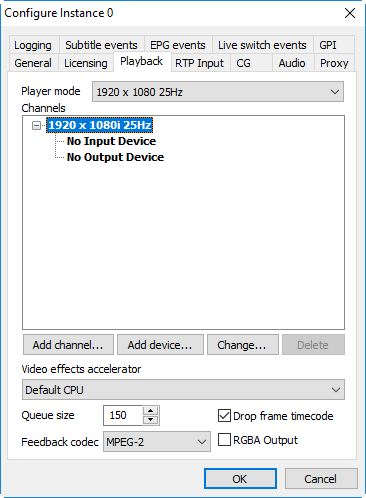 For a simple standard demo with no live signal input, you can skip the input device configuration. To show output on screen for testing purposes, define "Screen Output" as the output device.
| | |
| --- | --- |
| Note | For information about the input and output devices configuration, refer to this article. |
On the "CG" tab, select the corresponding option in the "CG and Channel Branding option" group to be able to send Cinegy Type / Cinegy Titler scenes to playout.
| | |
| --- | --- |
| Note | This step is not required if you are not using Cinegy CG. |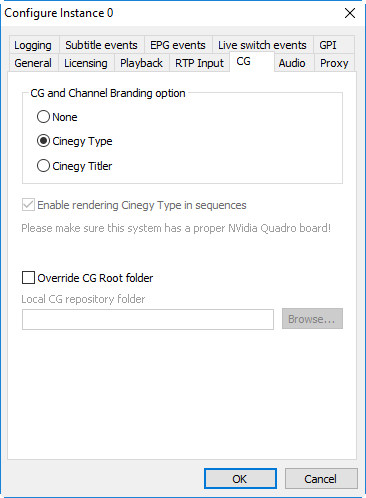 On the "Logging" tab, define the log files creation settings: logging level, location for the log files, the frequency of new log files creation.