EPG Server Settings
Reading time ~2 minutes
Integration with NDS EPG
This component is required to enable the integration between Cinegy Air PRO and NDS Media Highway, a 3rd party electronic program guide (EPG) and conditional access (CA) solution. Once the NDS Media Highway system is present and Cinegy Air PRO is installed, this software will automatically update the EPG data according to the latest changes in the Cinegy Air PRO playlist.
Once you have NDS Media Highway system up and running, please run the "Cinegy Air PRO Integration with NDS" wizard and follow its steps: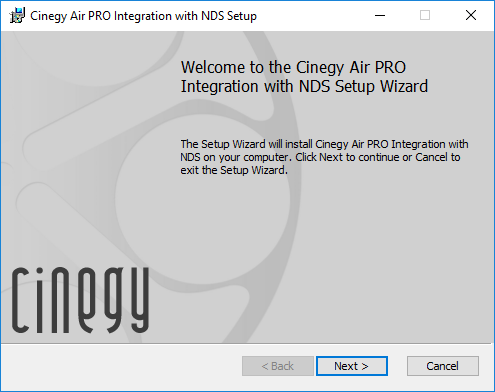 EPG Server Configuration
| | |
| --- | --- |
| Note | This settings tab is only available with the separate "Cinegy Air PRO Integration with NDS" plug-in installed on the current computer. |
| | |
| --- | --- |
| Caution | Integration with NDS EPG system is not available in Cinegy Air SOLO. |
Configuration file location and conditional access settings can be configured on the "Cinegy Air PRO" tab.
The SSR server and logging configuration settings are included to the EPG server tab:

SSR server
Set up the SSR server parameters to configure the NDS Server connection: URL, port, the reconnection attempts number in case of failure, and the time delay in milliseconds between them.
| | |
| --- | --- |
| Note | The URL and port settings are provided by NDS. |
Logging
Browse for the logs storage folder location and define the log level to enable logging.