Playlist Editor Mode
Reading time ~3 minutes
Playlist editor mode is designed for offline playlist preparation before sending the material to air in one of the control modes.
To activate this mode, select the "Playlist editor" from the "Application mode" drop-down list.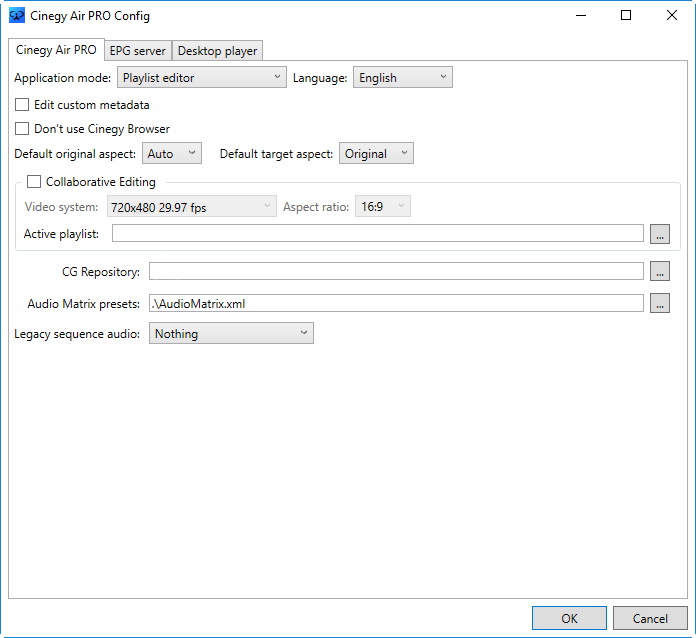 The following diagram represents the playlist editor mode setup: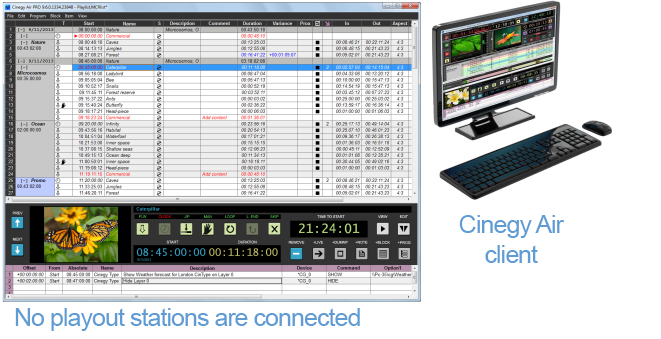 Global Settings
Specify the interface language using the "Language" drop-down list.
The "Edit custom metadata" option defines whether user is allowed to edit custom metadata in the Cinegy Air playlist. If this option is not set, user can edit only the Name and Comments values. If this option is set, user can edit the playlist item description and any custom metadata fields.
Select the "Don't use Cinegy Browser" option if it is not required to use the built-in Cinegy Browser for browsing through the Cinegy Archive database.
In the "CG Repository" field, specify the folder location where Cinegy Type or Cinegy Titler templates are stored.
| | |
| --- | --- |
| Important | Refer to the Creating a New Titler Scene article within the Cinegy Titler Manual to learn how to create Cinegy Titler templates. |
The audio matrix presets storage location can be defined in the "Audio Matrix presets" field.
| | |
| --- | --- |
| Note | If the audio matrix XML file cannot be found, opened or successfully processed, a warning prompt will be shown at the Cinegy Air startup. Cinegy Air control application will be loaded, but it will not be possible to change any audio matrices or audio encoding profiles. The valid audio matrix XML file should be specified in Cinegy Air configurator. |
The Sequence compatibility defines how to process Sequences without master audio tracks prepared in Cinegy Desktop 9.1 and earlier.
| | |
| --- | --- |
| Important | Refer to the Sequence Compatibility article for more information on "Legacy sequence audio" handling. |
Aspect Ratio
There are two parameters defining the aspect ratio values of the items inserted into a playlist.
Using the "Default original aspect" drop-down list, define the original aspect ratio value to be used by default for the source files inserted into a playlist. To define the aspect ratio value automatically, choose "Auto".
In the "Default target aspect" drop-down list, choose the target aspect ratio to be applied to playlist items. Set this value to "Original" to keep the original aspect ratio of a playlist item. If the "Stretch" value is selected, the target video stream is stretched to fill the entire frame, no cropping is applied.
| | |
| --- | --- |
| Note | Refer to the Aspect Ratio section for detailed information on playlist item display on the playout screen. |
Collaborative Editing
Select the "Collaborative Editing" option to enable the collaboration mode for the slave Cinegy Air station.