Multi Channel Control
Reading time ~3 minutes
| | |
| --- | --- |
| Caution | Multi channel control mode is not supported in Cinegy Air SOLO. |
Multi channel control mode provides simultaneous playout of several playout channels controlled by a single Cinegy Air PRO control application.
| | |
| --- | --- |
| Important | In order to get the initial knowledge about the control mode functionality, we recommend reading the Single Channel Control section first. Also refer to the Multi Channel Control article to learn about setting up the multi channel control mode configuration. |
Multi channel control mode has the same interface and workflow as single channel control mode the only difference being that you can switch between several controlled playout channels.
Connecting to Multiple Channels
Start the Cinegy Air PRO control application in multi channel control mode. You need to establish connection to the playout server for each channel individually. To do this, switch to the desired channel and press the "Connect" button.
| | |
| --- | --- |
| Caution | In order to prevent the time differences between the control and playout stations, all the Air clients take the current time from the playout server. |
If the connection is successful, all Cinegy Air PRO control functions for the current channel are activated.
Releasing connection can also be performed individually for each channel.
Loss of Server Connection
If Cinegy Air loses the connection to any connected playout server, the corresponding channel tab will blink with red color and the following informational window will be open:

Press the "OK" button to reconnect automatically once connection can be established or "Cancel" to manually connect using the "CONN" button.
Operating
Each channel is represented by a separate tab on the playlist panel. When the tab is activated, the corresponding channel playlist will be displayed: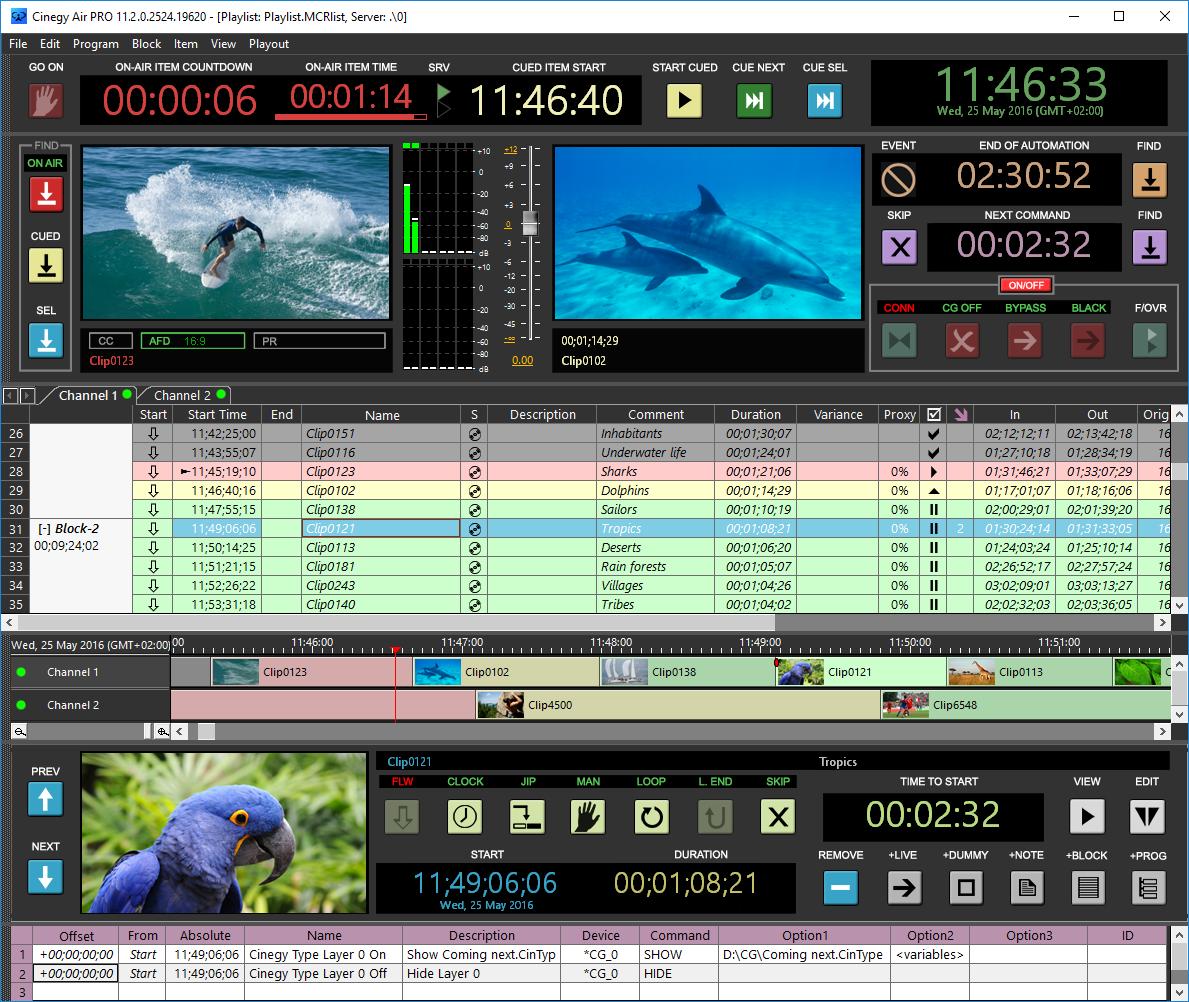 The timeline panel represents an interactive list of all the available channels. The playlist for each channel is shown as a horizontal timeline. The current playout position is marked with a red triangle.
Switching Between the Channels
To navigate between different channels, click the desired channel tab in the playlist panel or select a channel from the list on the timeline. Selecting any playlist item from the channel automatically switches to the corresponding channel tab and highlights the selected item in the channel palylist. The broadcasting control is switched over to the selected channel.
Channels Preview
Cinegy Air PRO has the optional panel for the multi channel playout preview displaying the outputs from all the configured channels. To open it, select the "Monitor Panel" option in the "View" main menu.
In multi channel control mode this panel displays all configured playout channels.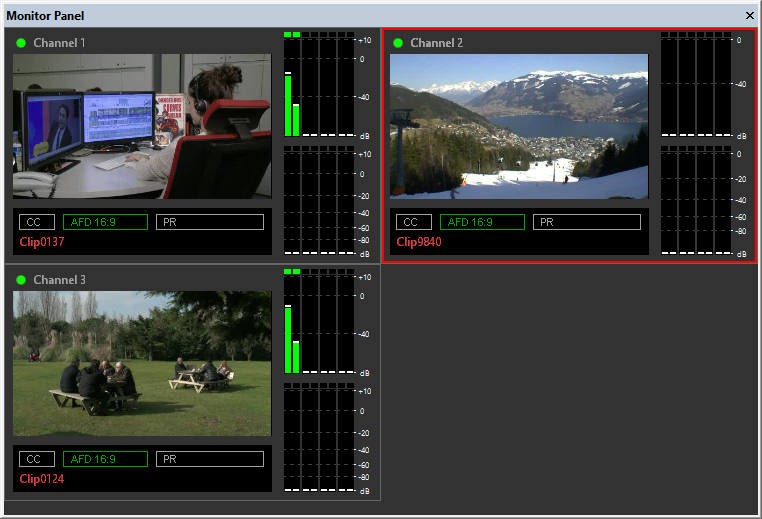 The monitor panel shows the following information about each channel:
channel name with the channel status indication;

video preview;

VANC data;

on-air item name.
The active channel preview window is highlighted with the red border. To quickly switch between channels, simply click the desired channel preview window. The broadcasting control will be switched over to the corresponding channel.