Step 2: Cinegy Playout Configuration
Reading time ~2 minutes
| | |
| --- | --- |
| Note | For complete description of Cinegy Playout configuration, please refer to the Cinegy Playout Manual. |
Several Cinegy Playout instances can be started on the same machine. Using the Cinegy Playout configurator you can add/remove Cinegy Playout instances and configure each of them individually.
To open the Cinegy Playout Configuration tool manually, right-click the icon in the taskbar and use the "Open configuration utility" command: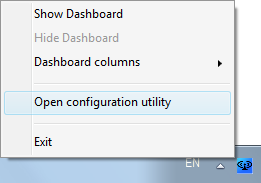 Alternatively, you can launch it from Start > All Programs > Cinegy > Cinegy Playout x64> Cinegy Playout x64 Config.
The following Cinegy Playout configuration dialog appears: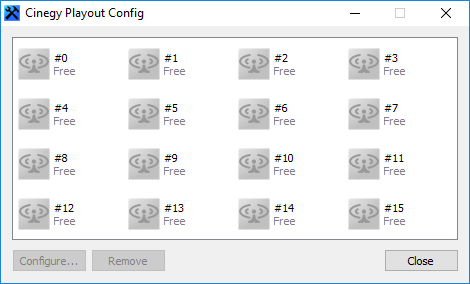 When configuration tool is open for the first time, no instance is configured. To activate an instance, select any "Free" instance and configure it by pressing the "Configure…​" button and specifying all the necessary parameters. To remove the configured instance, select it and press the "Remove" button.
| | |
| --- | --- |
| Note | A separate license should be purchased for each Cinegy Playout instance. |
On the "General" tab, specify the instance name and select the "On start immediately switch to live" option: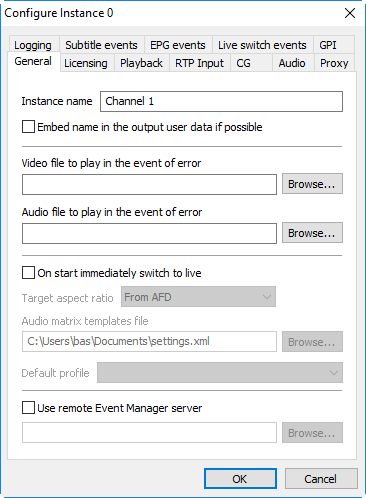 When this option is enabled, the audio matrix template file selection becomes available. If you have a pre-created audio matrix XML file, browse for it and select the audio mixing profile.

On the "Licensing" tab, do not select any connection: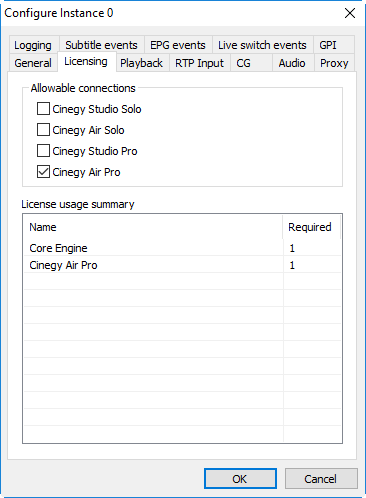 Make sure you have the "Core Engine" licence.
On the "Playback" tab, define the basic TV video format system that you want to use for conversion from the "Player mode" drop-down list. Set up one or several channels. If several channels are configured, the "Multichannel Output" license will be used and displayed in the "License usage summary" list in the "Licensing" tab.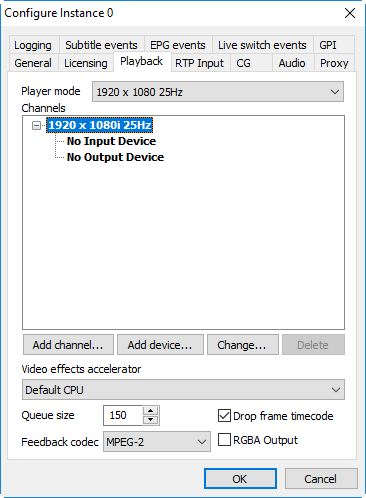 You can set one input device and define one or several outputs for a channel. An input device can be specified only for the main channel (it is shown in bold).
To add the output device for the selected channel, press the "Add device…​" button. In the following dialog choose an output device.
To configure the SDI input, choose the input device and press the "Change…​" button. In the dialog that appears select the desired supported SDI device. Then press "Next>" and define the corresponding device settings.
To configure the RTP input, go to the "RTP Input" tab, select the "Enable RTP/UDP input" and specify the source URL: