Step 4: Cinegy Playout Configuration
Reading time ~2 minutes
| | |
| --- | --- |
| Important | For complete description of Cinegy Playout configuration, please refer to the Cinegy Playout Manual. |
Several Cinegy Playout instances can be started on the same machine. Using the Cinegy Playout Configurator you can add/remove Cinegy Playout instances and configure each of them individually.
To open the Cinegy Playout Configuration tool manually, right-click the icon in the taskbar and use the "Open configuration utility" command: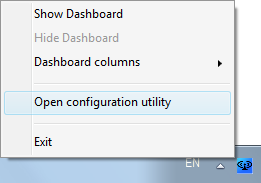 The following Cinegy Playout configuration dialog appears: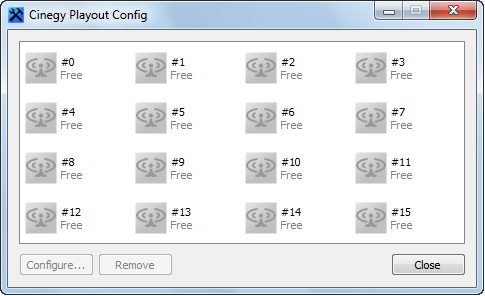 Select any "Free" instance and press the "Configure…​" button.
| | |
| --- | --- |
| Note | A separate license should be purchased for each Cinegy Playout instance. |
On the "General" tab, specify the instance name: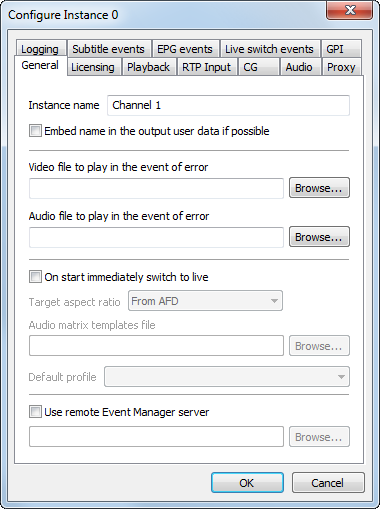 All other parameters on this tab are optional.
On the "Licensing" tab, select the "Cinegy Studio PRO Advanced Production Control" connection: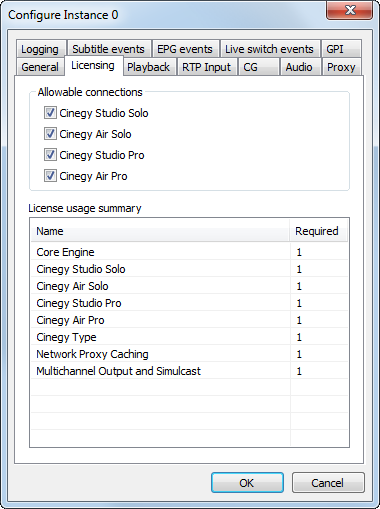 On the "Playback" tab, define the basic TV video format system to be used for broadcasting; set one or several channels: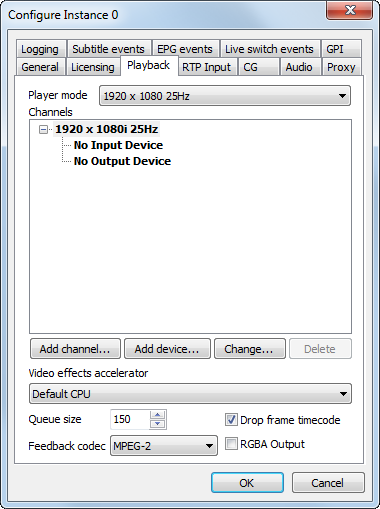 | | |
| --- | --- |
| Note | For a simple demo with input from files on the computer, do not define any input devices. To show output on screen, define "Screen Output" as the output device. |
The default settings on all other tabs can be left without changes.
| | |
| --- | --- |
| Note | Once Cinegy Playout is configured for a demo according to instructions given in Step Five and Cinegy Playout is started, the output is shown as a blue window with "Cinegy Demo Version" imprinted in the center. |