Globals Tab
Reading time ~2 minutes
The "Globals" tab allows you to define global parameters for the current CG scene. It has two embedded tabs for setting the loop and background parameters: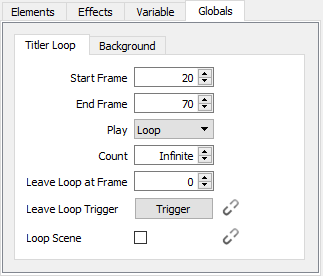 Titler Loop
The scene has a global loop structure with start and end frame markers specifying its range:
Start Frame – specifies the initial frame of the loop.

End Frame – specifies the final frame of the loop.
The start and end frames of the loop span are shown as green bars on the timeline:

Play – specifies the loop play mode. Choose the desired play mode from the pull-down list.

Count – defines the number of loop repeats.
Leave Loop at Frame – defines the frame number at which the scene leaves loop.

Leave Loop Trigger – manually triggers the scene to leave the loop and play to its end.

Loop Scene – specifies whether the whole scene should be played in a loop.
Background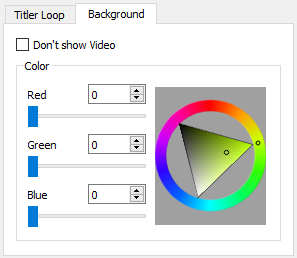 Set the "Don't show Video" option for the object's background to be opaque and of the specified color.
For example, this can be used to create a squeezeback: reduce the video or image size to allow other items (such as logos, text crawls, etc.) to be seen in the display area: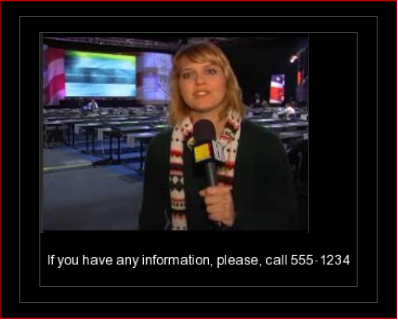 | | |
| --- | --- |
| Note | Please note, background color is used only on the Cinegy Type template editing stage and is not passed to the output. |