Object Layouts
Reading time ~2 minutes
Cinegy Type supports simultaneous broadcast of CG scenes with several layouts configured separately according to your broadcasting needs. You can add multiple layouts to the current scene from the list of available layouts depending on the original CG scene TV format.
| TV System | Available TV Formats |
| --- | --- |
| NTSC SD, HD, UHD | 720x480 29.97 fps 4:3 720x480 29.97 fps 16:9 1920x1080 29.97 fps 1280x720 59.94 fps 3840x2160 29.97 fps 3840x2160 59.94 fps |
| PAL SD, HD, UHD | 720x576 25 fps 4:3 720x576 25 fps 16:9 1920x1080 25 fps 1280x720 50 fps 3840x2160 25 fps 3840x2160 50 fps |
Layouts Managing
To add a new layout, go to the "Layouts" menu and choose the "Add new layout" command: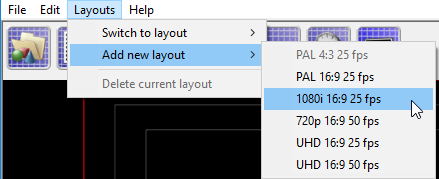 A new layout will be added, become active, and ready for further setup.
| | |
| --- | --- |
| Important | Refer to the Working with Objects article to learn about Cinegy Type objects and their setup. |
To switch between the existing layouts, go to "Layouts" > "Switch to layout" and choose the desired one from the list.
To delete the current layout, choose the "Delete current layout" command from the "Layouts" menu. The confirmation dialog box appears: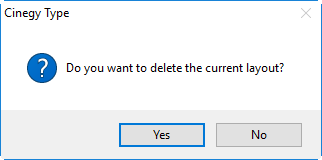 Press "Yes" to delete the current layout or "No" to cancel the operation.
| | |
| --- | --- |
| Tip | Please note, if you add a new layout and then add various objects and effects to it, they will be displayed only on this layout. However, if you add various objects and effects to the current layout and then add a new layout, they will be duplicated on both layouts. |
| | |
| --- | --- |
| Note | The set of variables is common for all layouts. |
When the CG scene with multiple layouts is sent to playout, each layout will be displayed according to its preconfigured TV format.