Creating and Deleting Variables
Reading time ~2 minutes
Cinegy Type scenes can be used as templates which can be triggered by the Cinegy Air PRO automation. Declared variable parts of the templates can be updated either manually or automatically. The Cinegy Type CG engine dynamically composites up to ten different layers, making it possible to control them independently when different elements are visible or not during playout.
The Cinegy Type editor offers the possibility to use variables. They are used for changing the parameters values in one place on a separate tab rather than having to change them in different places. These variables can also be exported to be directly edited in Cinegy Air PRO from the control panel before playout.
Creating a Variable
Some parameters controls have a

sign near them. This means that this parameter can be linked with a variable. Press this icon for the menu to appear: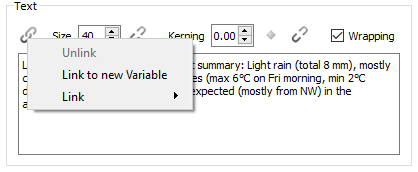 Select the "Link to new Variable" command to create a new variable for this parameter. The icon will change to

symbolizing that this parameter is linked with the variable. It will also be added to the list of the variables on the "Variable" tab on the elements panel:

It is also possible to create a new variable directly on the "Variable" tab. Press the "Create Variable" button and specify the type of the variable from the drop-down list that appears after double-clicking the cell in the "Type" column: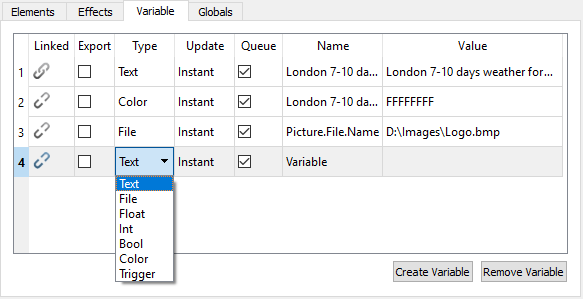 Depending on the selected variable type, specify its value in the "Value" column. You can also change the default variable name by double-clicking the cell in the "Name" column.
Having created a new variable, you can link it with the parameter of the corresponding type. To do this, press the

icon next to this parameter and select the variable from the "Link" context menu: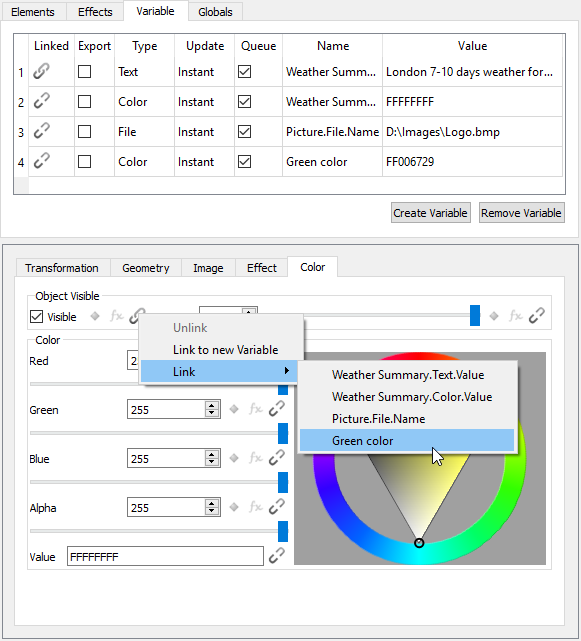 | | |
| --- | --- |
| Tip | Many items can link to one variable. For example, two distinct text objects can be set to the same name parameter, or have their color controlled from a single color variable. |
Deleting a Variable
To delete the specified variable, select it in the list and press the "Remove Variable" button. If this variable is linked with the parameter, the following dialog box will appear asking you to confirm your decision: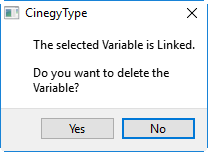 If this variable is deleted, the linked items will become disconnected, and the values will be set to whatever the variable was set to at the time of deletion.