Settings
Reading time ~2 minutes
| | |
| --- | --- |
| | Press this button on the main toolbar; the following "Settings" dialog box appears: |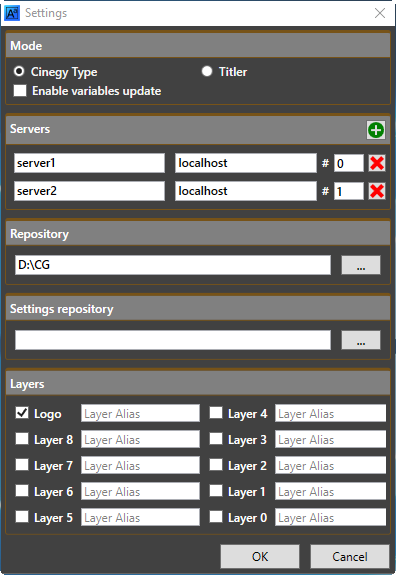 Here define the Cinegy CG settings:
Mode – select the corresponding radio button to choose whether Cinegy CG will control Cinegy Type or Cinegy Titler templates.

| | |
| --- | --- |
| Note | Please note that Cinegy Type engine is now considered in legacy support. |

Select the "Enable variables update" option to allow the operator update variables in real time. With the "Enable variables update" option deselected, the variables panel becomes unavailable and variables update is disabled.

Servers – servers running Cinegy Playout engine. Only one server is enabled by default, you can add more servers by pressing the button.

If several Cinegy Playout engine instances are started on the same server, define what Engine instance will be used to process the specified playlist in the corresponding "#" field next to the server IP address. To remove a server, press the button.

Repository – the folder location where the Cinegy Type / Cinegy Titler templates are stored. Press the button to choose the desired location in the "Browse For Folder" dialog.

Settings repository – the folder location where user profiles (all the Cinegy Type / Cinegy Titler template settings and its variables) in XML file format are stored. Press the button and change the default location in the "Browse For Folder" dialog.
In the "Layers" configuration group, define if the logo should be added to your CG scene by selecting the corresponding checkbox. Here also specify the layer(s) to be added to the given CG scene by checking the necessary checkbox(es).
Press "OK" to apply the settings and exit the dialog.
Server Connection Indication
| | |
| --- | --- |
| | The number of indicators on the left from the CG layer name corresponds to the number of currently configured servers. When connection to the defined playout server(s) is properly established, a green indicator is displayed. The connected server name on the main info panel is displayed in green. When connection to the playout server is lost, the green indicator changes to red; the server name is displayed in red as well. |
If two or more playout servers are defined in the Cinegy CG "Settings" dialog and all of them are properly connected, broadcasting is carried out on all of them. When connection to either of playout servers is lost, broadcasting proceeds on the connected server(s):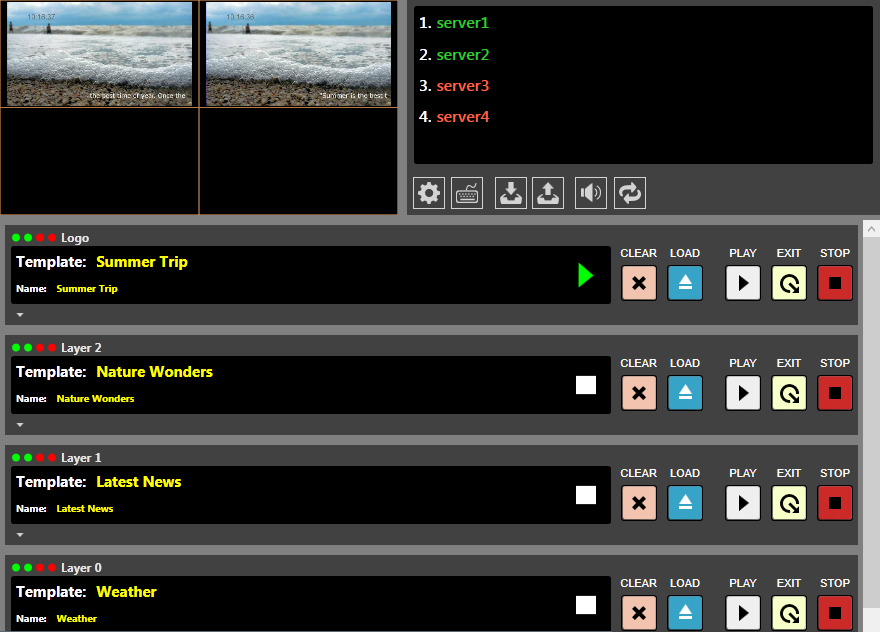 | | |
| --- | --- |
| | Press the "Reconnect" button on the main toolbar to re-establish connection. |
Re-established connection to the main server does not automatically resume the CG template broadcasting on all layers. To restart the template, press the "Play" button for the corresponding layers.