MOS Installation and Setup
Reading time ~3 minutes
To install Cinegy MOS gateway, run the Setup.exe file from the "MOS" –> "MOS Gateway" directory of your installation package. During the installation, accept the license agreement and define the installation folder in the setup wizard.
Cinegy MOS Gateway connects the MOS server with the Cinegy Studio playout clients. It is recommended to run Cinegy MOS Gateway on a separate machine. The utility does not require much power, only a reliable network connection.
Connecting to MOS
To connect Cinegy MOS Gateway to the MOS system, you must create and put the configuration file CynMOS.ini into the "WINDOWS" directory; otherwise the following error message appears when running the MOS gateway utility: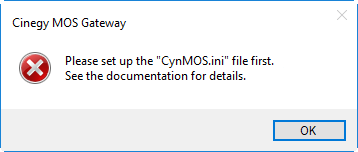 Here is a sample of the configuration file:
[

CynMOS

]




ENPSIP

=

"192.193.0.1"




MOSID

=

"ENPS-SUPER-SERVER"




ENPSID

=

"ENPSCIN"
The file defines the following parameters for the gateway:
ENPSIP – the IP address of the ENPS server;

MOSID – Cinegy Studio MOS ID (must be identical to the ID stored in the ENPS server);

ENPSID – ENPS NCS ID (defined at the time of server installation).
Run the MOSGateway.exe file. If the connection is successful, the gateway immediately starts to get the rundowns from the ENPS server.
| | |
| --- | --- |
| Note | It is recommended to put a shortcut to the MOSGtateway.exe into the Windows "Startup" folder. |
ENPS Troubleshooting
The following table provides solutions to the most typical problems:
Problem
Solution

Gateway loses connection to the ENPS server

Restart Cinegy MOS gateway. When starting, it will request the full list of rundowns.

I cannot see all the rundowns in the ENPS playout utility

MOS can fail if you have too many active rundowns. Archive old rundowns regularly to avoid the problem.

The list of rundowns in the ENPS playout utility is empty

Check the settings in the CynMOS.ini file.


Make sure the rundowns have MOS ActiveX enabled.


Make sure the stories in the rundowns are above the "black line".
iNEWS MOS Gateway Configuration
The following steps should be made to configure the iNEWS system to work with Cinegy playout applications:
Install and set up Avid MOS Gateway to work with iNEWS server.
| | |
| --- | --- |
| Important | Refer to the MOS Gateway documentation for more information on installation and setup. |
Edit Avid mosconfig.xml and add Cinegy MOS gateway as mosDevice, configure it with chosen MOS ID for Cinegy Gateway and address of Cinegy MOS Gateway PC.

Install Cinegy MOS Gateway and configure it to communicate with Avid MOS Gateway with the same MOS and NCS ID.

Install MOS ActiveX on a client machine where Avid iNEWS client is installed.

Open Cinegy ActiveX plug-in in the iNEWS client application.

Create a story in the rundown and drag items from the Cinegy ActiveX window into the story.

Mark the rundown as ready to make it available to MOS devices.

If everything is OK, the approved rundown should be sent to Cinegy MOS Gateway and then configured in Cinegy playout applications.