Cinegy Air Installation
Reading time ~2 minutes
This article guides you through the Cinegy Air PRO installation steps.
| | |
| --- | --- |
| Note | The Cinegy Air SOLO installation process is the same. |
| | |
| --- | --- |
| Caution | At least local administrator rights are required to install and configure Cinegy Air on your computer. |
| | |
| --- | --- |
| Caution | The Desktop Experience feature should be installed on Windows Server 2012 R2 in order to ensure the correct functioning of Cinegy Air preview. |
The control station is the computer where Cinegy Air PRO runs. To install this component, run the Setup.exe file from the "Cinegy Air PRO" directory of your Cinegy Air PRO installation package. The Cinegy Air PRO setup wizard will be launched:
Press "Next". Read and accept the license agreement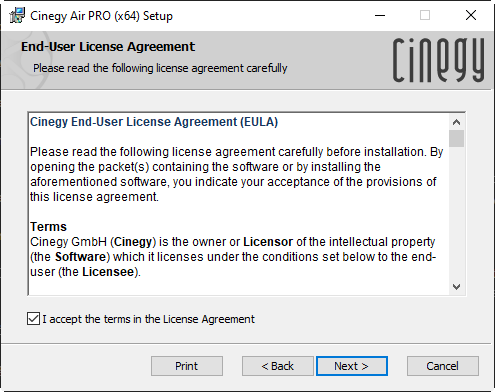 Press "Next" to proceed with the installation. The following dialog box appears: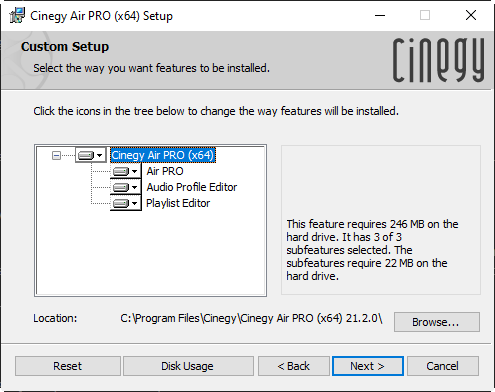 Press the "Browse" button to change the installation folder, if needed.
The "Air PRO" component installation is enabled by default. The Audio Profile Editor and Playlist Editor features are also enabled for installation by default. If you do not plan to use it, deselect the corresponding feature.
Press the "Next" button to proceed with installation. At the next step press the "Install" button to launch the installation process. A progress bar will show the progress.
Press the "Finish" button to complete the installation and exit the Setup wizard.
| | |
| --- | --- |
| Note | Please check if the custom sets of codecs and fonts are installed on both the Cinegy Air client and the playout server stations. If a required codec is not installed, the "Media Offline" message will appear in the Air Control previews instead of showing the media material. On the Playout side either color bars or the "emergency footage" will be played back, depending on the playout station configuration. If a required Windows font is not installed, the default Arial font will be used in the Cinegy Titler templates. |