Server Connection Indication
Reading time ~1 minutes
| | |
| --- | --- |
| | The number of indicators on the left from the CG layer name corresponds to the number of currently configured servers. When connection to the defined playout server(s) is properly established, a green indicator is displayed. The connected server name on the main info panel is displayed in green. When connection to the playout server is lost, the green indicator changes to red; the server name is displayed in red as well. |
If two or more playout servers are defined in the Cinegy CG "Settings" dialog and all of them are properly connected, broadcasting is carried out on all of them. When connection to either of playout servers is lost, broadcasting proceeds on the connected server(s):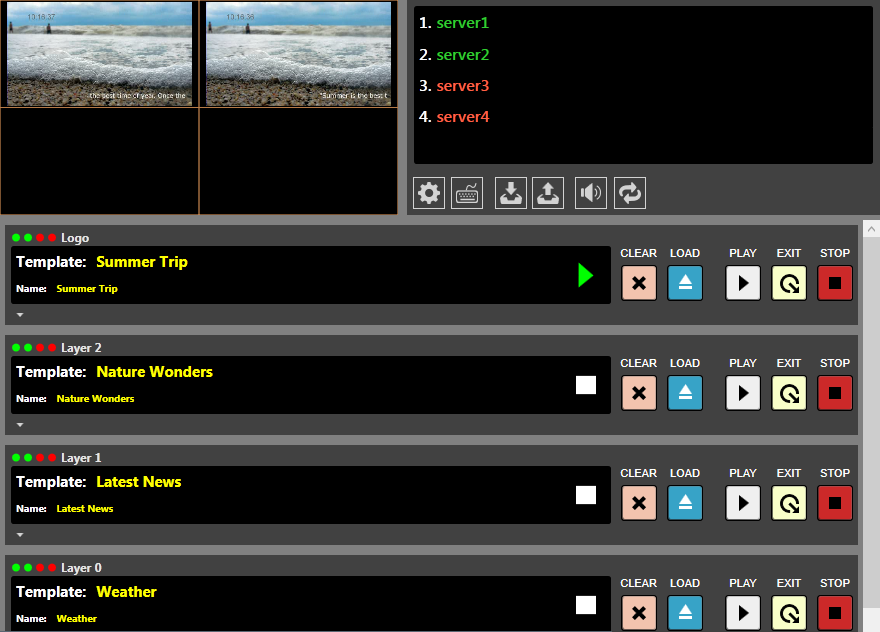 | | |
| --- | --- |
| | Press the "Reconnect" button on the main toolbar to re-establish connection. |
Re-established connection to the main server does not automatically resume the CG template broadcasting on all layers. To restart the template, press the "Play" button for the corresponding layers.