Working with Templates
Reading time ~3 minutes
| | |
| --- | --- |
| | To load an existing CG template, press this button; the "Load Template" dialog appears: |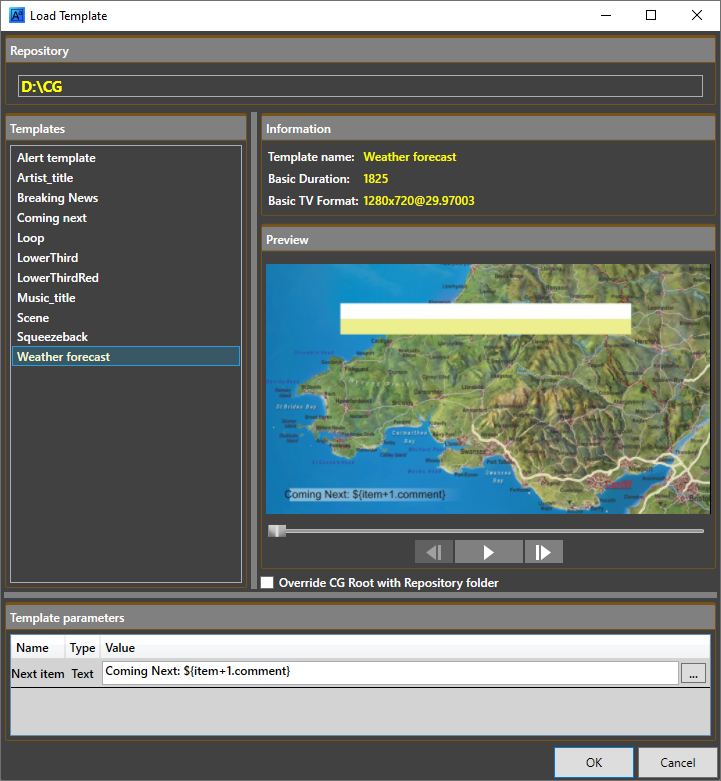 The "Templates" panel contains a list of CG templates of the corresponding TV format available for loading. Choose the CG template you want to add; its preview will be displayed in the "Preview" window. You can view any frame of the template by dragging the time slider or using the playback buttons.
| | |
| --- | --- |
| Note | You can change the size of "Load Template" window and its "Templates" and "Preview" panels by dragging the borders of a corresponding panel with the cursor. |
| | |
| --- | --- |
| | The arrow buttons jump to the first and last frame respectively. |
| | The "Play/Pause" button toggles playback mode. |
Select the "Override CG Root with Repository folder" option to substitute the Cinegy CG root path with the Cinegy CG repository location for scenes preview.
| | |
| --- | --- |
| Important | For more information on Cinegy CG repositories, refer to the Cinegy CG Root Folder paragraph of the Cinegy Playout Manual. |
Above the "Preview" window there is the "Information" panel, where the basic CG template data, such as its name, duration and TV format are displayed.
The "Template parameters" table contains the variables of the CG template. You can edit the value of each variable by clicking in the "Value" field and entering the desired data.
Having set up all the necessary parameters, press "OK" to save them and return to the main "Cinegy CG" window.
Editing CG Templates
It is possible to edit CG template parameters on-the-fly, when this template is on air. To do this, expand the variables panel inside the corresponding layer control panel in the main "Cinegy CG" window: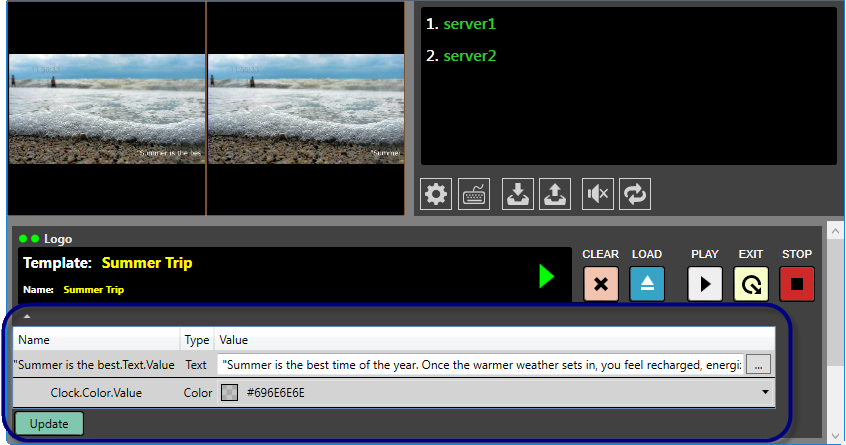 | | |
| --- | --- |
| Note | Updating CG template parameters on-the-fly is possible with the "Enable variables update" option selected in the Cinegy CG settings dialog box. |
| | |
| --- | --- |
| | To apply the changes and display them in the "Preview" window, press the "Update" button. |
Leaving Loop Scene
For the template to leave loop, select the "Leave LoopTrigger" option and press the "Update" button; the scene will continue playing to its end.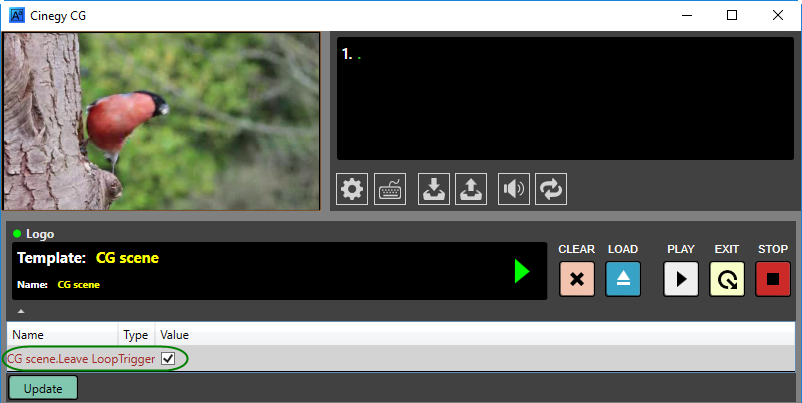 Template Status
For each layer the CG template status is displayed on the left of the corresponding layer control panel. Possible statuses are as follows:
| | |
| --- | --- |
| | The CG template is on air. |
| | The CG template is ready for playout or stopped. |
| | The CG template is not loaded or not connected on the current layer. |
Operating the Template Layers
| | |
| --- | --- |
| | You can start any CG template layer pressing the "Play" button on the right of the given layer. Alternatively, use F1…​F6 keyboard shortcuts. |
| | Press the "Exit loop" button for the template to leave the loop, if any. |
| | To stop a CG template layer, press the "Stop" button next to the "Play" button on the given layer. Alternatively, use Shift+F1…​F6 keyboard shortcuts. |
| | To remove a template from CG layer, press the "Clear" button. To load another template, use the "Load" button. |
| | |
| --- | --- |
| | During the templates preview, it is possible to mute the audio coming from playout engines by pressing the "Mute" button. |
| | When pressed, the button is changed to indicate that the mute is on. |
| | |
| --- | --- |
| Note | Impacting an item with secondary events through Cinegy CG on the same CG layer may lead to the failure of secondary events automation at this level, and you must continue to control this element manually until the next item starts. |