Script Items List
Reading time ~2 minutes
The script items list window shows the items running order and can be launched by pressing the F2 key in the Prompter screen window. It is displayed as a table containing the list of all script items for the Rundown, loaded in Cinegy Studio, as well as script items from the local playlist, their duration in minutes and seconds, and amount of words and lines.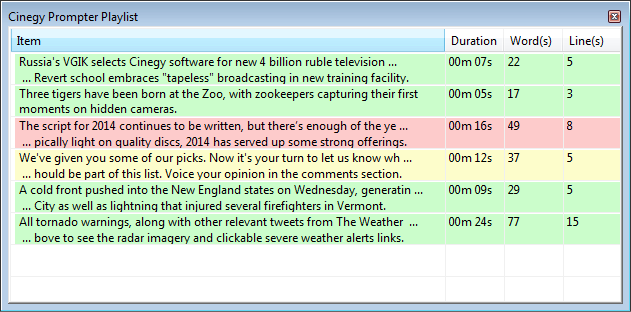 The script items are displayed against colored background. Pink background is used for the script item currently loaded into Cinegy Prompter, yellow – for the next cued item, green – for all other items.
If the text of an item is long, only the beginning and the end of it with ellipsis are displayed in the "Item" column. The size of the window and the column width can be adjusted according to your needs by placing the mouse pointer to the grid line and dragging to the desired size.
Any item of the list can be loaded into the Prompter screen window. When loaded, it does not start automatically; you need to start it manually. To load the item simply double-click it or use the keyboard keys described in the table below:
| Operation | Resulting Action |
| --- | --- |
| Home | Load the first item of the list |
| End | Load the last item of the list |
| Page Up | Load the previous script item (up to the first item in the list) |
| Page Down | Load the next script item (down to the last item in the list) |
| Esc | Quit the playlist |