Blocks
Reading time ~2 minutes
| | |
| --- | --- |
| | Creating a new block is similar to creating a new program. Select the "Create block…​" command from the "Block" main menu or simply press the "+Block" button on the selected item editor panel. |
Enter a new block name into the text field of the "Create a block" dialog.
Confirm the creation of a new block by pressing the "OK" button. The newly created block contains an item, named <empty> by default. This item is displayed in red with zero duration.

| | |
| --- | --- |
| Tip | You can rename a block at any time by double-clicking the corresponding name field on the playlist panel. |
To select a block, click on the cell with the block name in the playlist table:

Block Properties
Select the block or any item within it and choose the "Block properties…​" command from the "Block" main menu: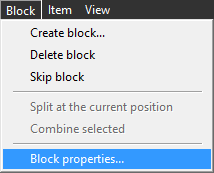 The following dialog is opened: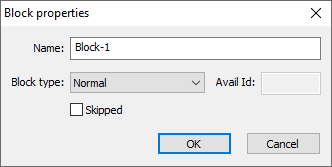 In this dialog you can specify main block properties - its name and type, as well as to define whether this block is skipped or not.
Block Type
Three types of blocks can be set in the Cinegy Air playlist: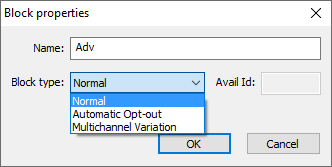 The normal block type is used for combining playlist items into structural blocks within programs.
Automatic opt-out and multichannel variation blocks are used in the workflows when the regional variations (e.g. local news or commercials) are broadcast to different regions of the coverage area.
Highlight colors of these block types in the playlist can be configured in Cinegy Air preferences ("Edit" main menu > "Preferences").
When the block type is changed to "Multichannel variation", the first item in the block receives the "clocked" trigger.