Interface
Reading time ~2 minutes
Cinegy Prompter starts displaying and scrolling the text when the cued text is launched from the Prompter device inside Cinegy Studio. The text is scrolled with the speed defined in Story Editor for each separate presenter.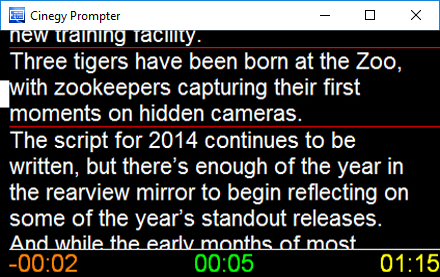 The marker on the left side of the window shows the position from which the text begins to scroll when launched. The marker is stationary, its position can be changed only in Cinegy Prompter Configurator.
There are timers at the bottom of the Cinegy Prompter window. Each timer has its own color and corresponds to a separate time value. You can change the default colors in the Cinegy Prompter Configurator.
| | |
| --- | --- |
| | The timer in the middle displays the countdown for the currently played item depending on its scrolling speed. |
| | The timer in the right corner shows the time left until the next cued item start. |
| | |
| --- | --- |
| Note | This timer is displayed only when the counters are started. |
| | |
| --- | --- |
| | The variance timer shows the variance between the estimated end time of the block and its end time calculated depending on the changed speed of scrolling during playback. When there is no variance between these values, the variance timer is not displayed in the Cinegy Prompter window. |
If the scrolling speed is changed during playback, the other timers are recalculated automatically.
All the above-mentioned timers are also displayed in the Prompter device screens of Cinegy Studio: