Starting Cinegy Enterprise Manager
Reading time ~2 minutes
| | |
| --- | --- |
| Note | Full administrator rights on your SQL Server are required to work with Cinegy Enterprise Manager successfully. |
| | |
| --- | --- |
| Caution | The modifications made to the Cinegy Archive database via Cinegy Enterprise Manager will be visible in the Cinegy Desktop clients after their restart. |
| | |
| --- | --- |
| Caution | It is strongly recommended that you never use any 3d party tools to modify Cinegy Archive database. Any damage caused by such actions is not covered by official support policy. For database modifications it is recommended to use only Cinegy-provided tools or Cinegy-provided APIs. |
In order to run the application:
Make sure that you have connection to the SQL Server.

Double-click the Cinegy Enterprise Manager icon, which you will find on your desktop.

A dialog box appears, asking you to select an SQL Server from the list of available servers or by pressing the "Browse" button. Select the appropriate server and press "OK".

| | |
| --- | --- |
| Note | "Use trusted connection" means that the login name and the password, which you are using to log in into the network, will be used for the trusted connection to the SQL Server. This must be set up on the Windows user side; otherwise the login will fail. If you deselect "Use trusted connection", you will need a dedicated username and password on the SQL Server. |

Now Cinegy Enterprise Manager starts: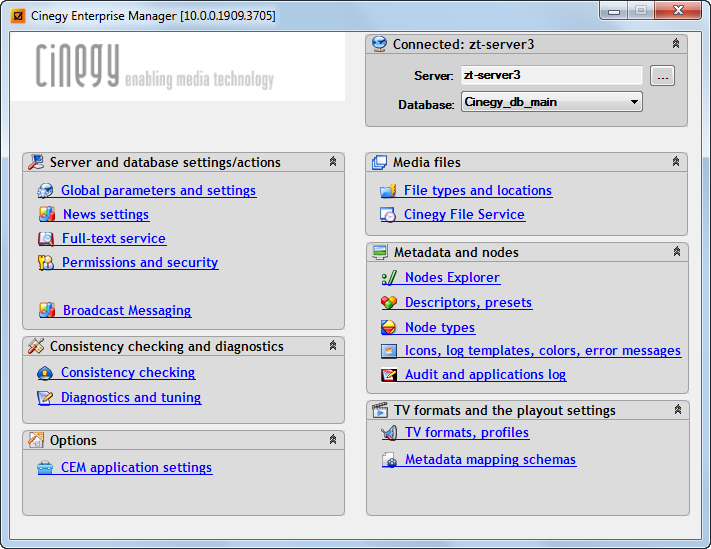 The current SQL Server instance name of the selected server and the database name are displayed in the upper right corner of Cinegy Enterprise Manager. Select the preferred database from the list of active SQL Server databases.
| | |
| --- | --- |
| Note | Avoid using multiple Cinegy Enterprise Manager instances at the same time, at least for the same SQL Server. |
| | |
| --- | --- |
| Caution | It is strongly recommended to back up the database before you start modifying its structure. Refer to the Microsoft SQL Server documentation to get more details about this procedure. |
The Cinegy Enterprise Managert settings are divided into the following tabs:
Options - this section is used to set up the Cinegy Enterprise Manager application settings.
Media Files - management of media files and locations is applied here.