Cinegy Capture Archive Adapter
The Cinegy Capture Archive Adapter service allows user to integrate Cinegy Capture with Cinegy Archive for direct ingest into centralized asset management systems.
The recorded media session is written into a Roll and can be used directly in Cinegy Desktop.
Configuration
To configure Cinegy Capture Archive Adapter, go to Start > Cinegy > Cinegy Capture Archive Adapter > Cinegy Capture Archive Adapter 64-bit Configurator. The Cinegy Archive Adapter configurator will be launched: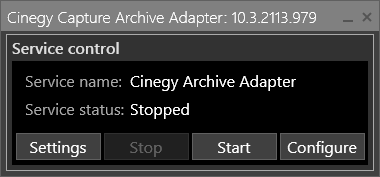 Settings
| | |
| --- | --- |
| | Press the "Settings" button to specify logging parameters of your capture session in the following configuration window: |
| | |
Here specify the following parameters:
Logging level – choose between "Debug" for generating a full log, "Normal" for creating a log file containing the error messages only and "None" for no logging;

Roll interval – use the drop-down list to specify the frequency of a new log file creation;

Max archived files – define the maximum number of log files to be created in the specified "Roll interval" period (0 means no restriction on file number);

Roll size – to limit the log file size.
| | |
| --- | --- |
| | To view the created log files folder, press the "Open log folder" button. |
| | |
| --- | --- |
| Caution | All changes will be applied only after the service restart. |
CAS Configuration
| | |
| --- | --- |
| | Press the "Configure" button for the Cinegy Archive Service configuration. The following dialog appears: |
| | |
In the "Server" field specify the URL of the machine where Cinegy Archive Service is launched.

Then define the parameters of the domain logon: domain name, login and password.

Press the button and select the required SQL server and Cinegy Archive database:

Next specify the folder in the defined Cinegy Archive database in which the target Roll(s) will be created. For this press the button near the "Root folder" field and browse for the required folder in the explorer tree:

Having defined all settings, you will see the message "Settings are unchecked" informing you that you need to ensure the entered data is correct:

| | |
| --- | --- |
| | Make sure Cinegy Archive Service is started and press the "Check settings" button to verify your configuration and perform the CAS URL discovery: |

The Server URL address discovered by the system is displayed in the "Discovered URL" field if available, otherwise it is marked as "N/A".

The following status indicator shows that the settings are correct:

Save the Cinegy Archive Service configuration settings by pressing the "Save" button.
Service Control
When the connection settings defined, the Cinegy Archive Adapter service should be started. It can be done manually from the Cinegy Archive Adapter Configuration window by pressing the "Start" button. The service status will be displayed in the corresponding field: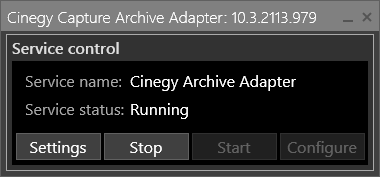 To stop the service, press the "Stop" button.
| | |
| --- | --- |
| Note | A dedicated license is required to enable the Archive Adapter service to run. This license should be installed on the machine running the service via a USB dongle. |
Capturing Material
Now you can start capturing the material.
| | |
| --- | --- |
| Important | Refer to the Capture Controls paragraph for detailed information on video material capturing. |
When captured, it becomes available in Cinegy Desktop: