Scheduler Panel
Reading time ~3 minutes

This panel allows user to schedule recordings. It automatically controls the capture schedule to start / stop the recording sessions and can be also controlled from web via Cinegy Capture Planner.
In the "Schedule date" field specify the date for the capture session schedule via the

and

arrows or by pressing the

icon and choosing the date from the calendar: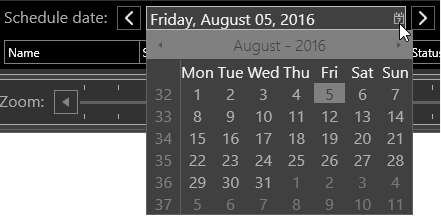 You can edit the schedule for any future date (including the current day).
| | |
| --- | --- |
| | Press the "Add" button to add a new schedule entry to the list; the following form appears: |
| | |
General Tab
In the "General" tab specify the following parameters:
Start – the date and time of the planned recording session start.

End – the date and time of the planned recording session end.

Scheduler event – the schedule event name.

Template – the active Engine template to be used for the planned recording session; it should be chosen from the drop-down list of the available templates.

Target folder – the target folder path within your Cinegy Archive database in which the target Roll(s) will be created during the planned recording session; use the "…​" button to choose the folder.

Description – the custom text describing the recording.

Template metadata – the template metadata of the planned recording session. The list of metadata fields depends on the template type as well as on the database settings.
Recurrence Tab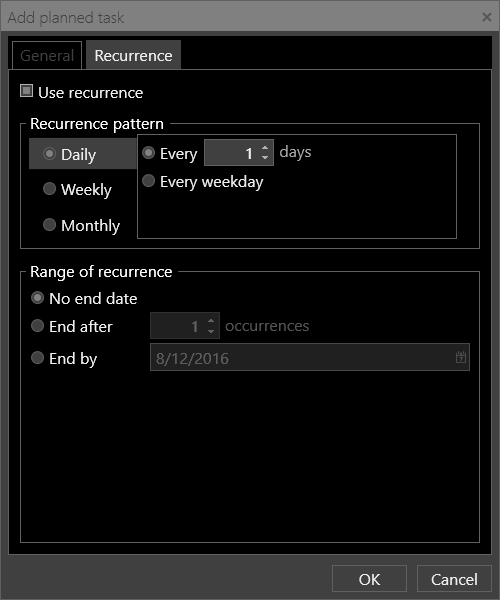 Once you have set up a planned recording, you can set it to recur by selecting the "Use recurrence" option and specifying the following parameters:
Recurrence pattern – sets how often the planned recording occurs on the calendar. There are different patterns for daily, weekly and monthly recurrence.

Daily – allows user to set the recording to recur every weekday or every specific number of days.

Weekly – allows user to select the day(s) of the week for the planned recording.

Monthly – allows user to set the recurrence to a particular date of the month or select first, second, third, fourth or last and specify the day of the week used for recording recurrence.

Range of recurrence – specifies when recurring starts and stops. The recording can be set to have no end date, to end after a specific number of occurrences or to end by a specific date.
All the planned recordings for a particular day are listed on the Scheduler panel in a table representation with the following parameters: recording name, start and stop time, actual status of the recording and its recur mode (displayed as an icon).
| | |
| --- | --- |
| | Press the "Edit" link next to the corresponding planned recording to edit its parameters, if needed. |
| | Press this button next to the corresponding planned recording to delete it. |