Event Presets
Reading time ~2 minutes
The "Event Presets" tab allows user to add secondary events to the recording task. Cinegy Capture Manager supports different events controlled via Cinegy Event Manager.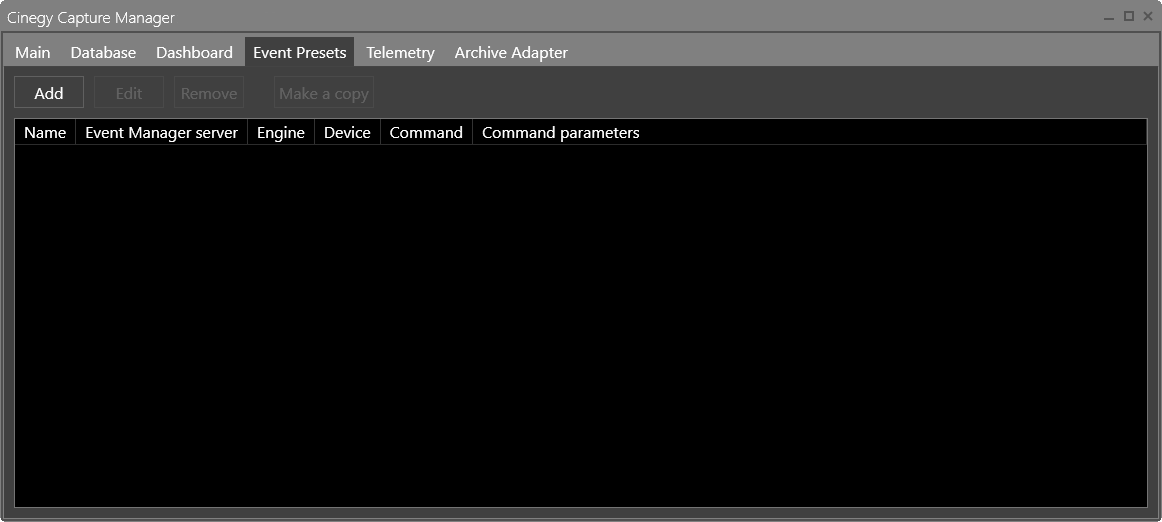 | | |
| --- | --- |
| | Press the "Add" button to create a new event preset; the following configuration form appears: |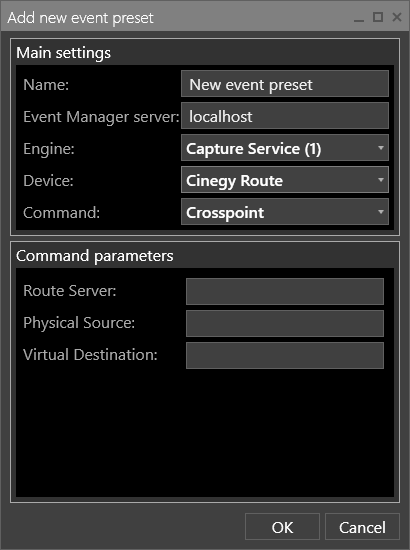 The description below shows the configuration where Cinegy Route is used as a means of managing and switching live streams.
In the new event preset configuration window, specify the following parameters:
Name – define the event name you are adding.

Event Manager server – the IP address of the machine where Cinegy Event Manager is installed.

Engine – the Capture Service selected from the drop-down list.

Device – the external device name selected from the drop-down list.

Command – the command to control the device through the specified event.

Command parameters – define the command parameters for the selected device.

| | |
| --- | --- |
| Note | The command parameters to be configured are different for each specific device and command. Refer to the Secondary Events Syntax paragraph within the Cinegy Event Manager Manual for details on external devices configuration. |
For the Cinegy Route external device, the following parameters are to be specified:
Route Server – enter the Cinegy Route IP address.

Physical Source – specify physical source group and/or physical source name created via Cinegy Route physical source.

Virtual Destination – enter the virtual destination group name.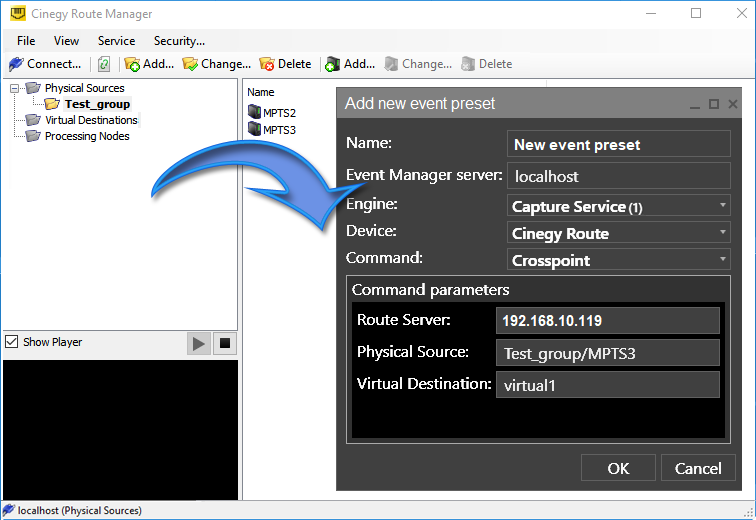 Once the parameters are set up, press "OK" button to save changes.
To control the configured event, click its name on the "Event Presets" tab; the following options are available:
| | |
| --- | --- |
| | Press the "Edit" button to modify the event preset. |
| | Press the "Remove" button to delete the event preset. |
| | Press the "Make a copy" button to duplicate the event preset. |