Step 2: Configuring Engines via Cinegy Capture Manager
Reading time ~2 minutes
Cinegy Capture Manager is an application for managing Cinegy Capture Engine services.
Cinegy Capture Manager can be launched from Start > Cinegy > Cinegy Capture 64-bit Manager
Database Configuration
Having installed the server components, go to the "Database tab" to configure the database settings:
| | |
| --- | --- |
| | Press the "Create new DB" button to create a new database. |
If the database exists but its current version is not compatible with the current Cinegy Capture version, press the "Upgrade to required version" button to update the database.
Common Settings Configuration
Having configured the database, go to the "Main tab".
Press the "Common settings" button; in the dialog that appears, define the local network adapter IP address and logging parameters of your capture session along with the managing account: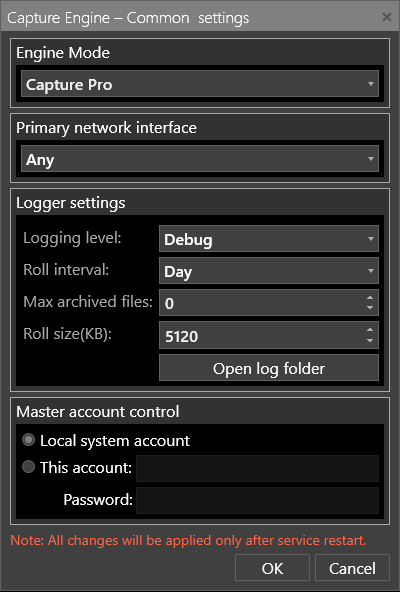 | | |
| --- | --- |
| Caution | Make sure the user account under which the service is running has enough privileges to write to network shares used for Cinegy Capture tasks. |
| | |
| --- | --- |
| Note | All changes will be applied only after the service restart. |
Adding Service
Cinegy Capture Manager allows user to add individual services for specific tasks. First, press the "Add" button to add a new service, then press the "Install" button to install it.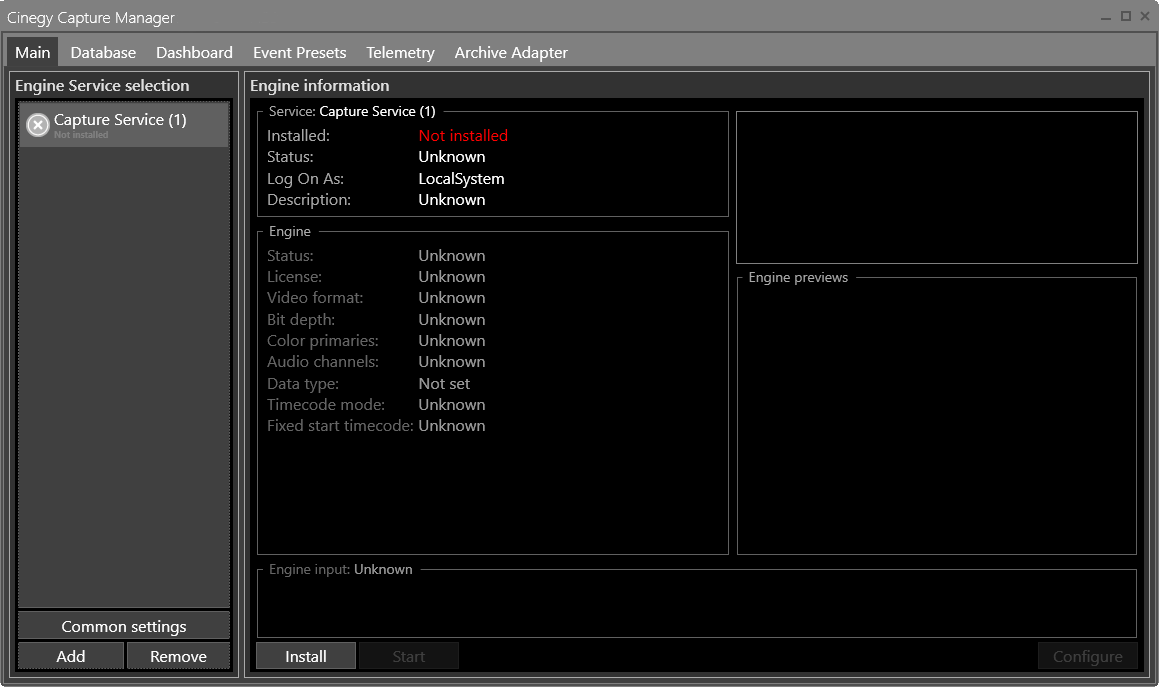 Once installed, the "Capture Service" is added as a regular Windows service. It can be started directly from Cinegy Capture Manager simply by pressing the "Start" button. The service started for the first time is not configured.
| | |
| --- | --- |
| Note | Several Cinegy Capture Engine services can be added. |
| | |
| --- | --- |
| Note | It is possible to add and configure only one Capture Service in Capture Desktop Edition mode. |
Configuring Service
To set up the specified Cinegy Capture Engine service, press the "Configure" button. In the "Capture Engine Configuration" dialog that appears, specify the recording job main parameters such as input TV format, capture source type, audio settings. You can also add channel description and configure a stream preview here: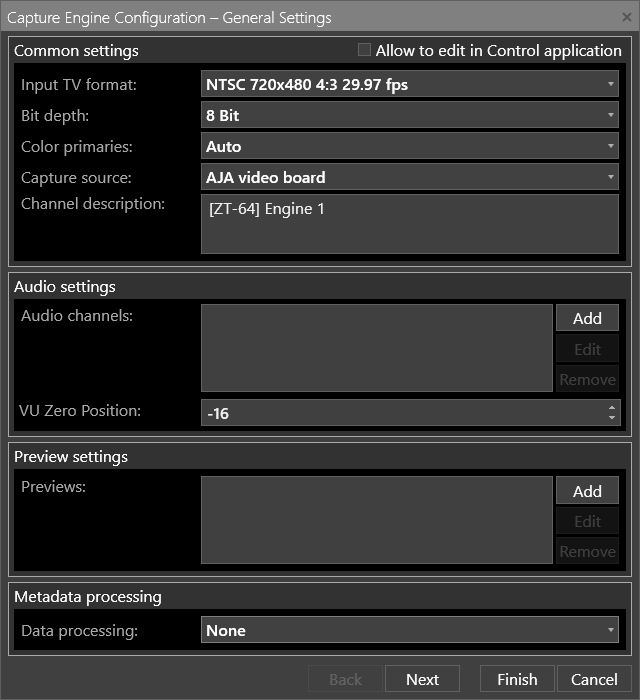 Having specified all the necessary parameters, press "Next" to set up the timecode settings. Once the timecode setting are set up, press "Next" to configure the selected capture source settings. Various capture sources have individual set of parameters specific to the selected type.
For a simple demo, select the file based capture source and specify its file path:

| | |
| --- | --- |
| Note | "File based capture" capturing source type is mostly used for testing purposes. |
Press "Next" to proceed; the defined configuration summary will be displayed for you to review. Press the "Finish" button for the specified settings to be applied: