Engine Settings Panel
Reading time ~1 minutes
In this panel a user can manage the capture source parameters of the current Capture engine, as well as the common settings of the engine service and the parameters of the configured external events and routes. These parameters can be controlled either from Cinegy Capture Manager or directly from Cinegy Capture Control: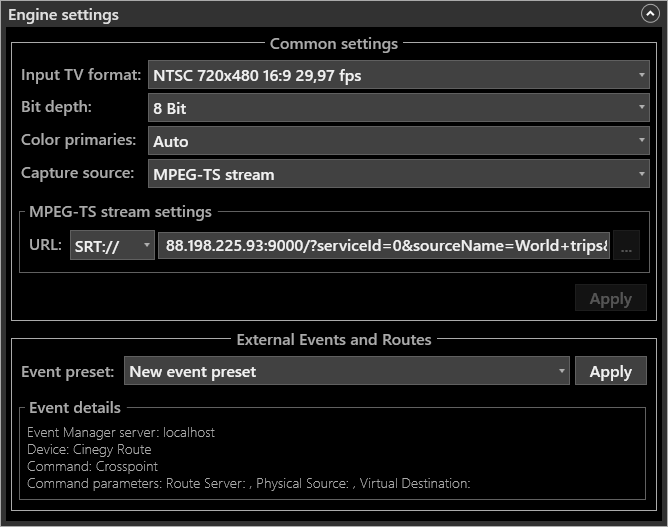 | | |
| --- | --- |
| Important | Please note that the ability to manage the settings presented in the "Engine settings" panel is regulated by the "Allow to edit in Control application" option that can be enabled while configuring common engine settings; if this option is not selected, the engine and capture source related settings will not be available on the engine settings panel. |
The current Capture engine source parameters depend on the selected capture source.
In the "External Events and Routes" section the detailed information on the configured event presets is displayed:

The "Event preset" field comprises the list of preconfigured parameters and commands for a specific event. Use the drop-down list to select the desired event preset template.
| | |
| --- | --- |
| Important | Refer to the Event Presets paragraph for detailed information on event presets configuration. |
| | |
| --- | --- |
| | Press the "Apply" button to apply the selected preset. |
The "Event details" section displays the information on the specific parameters and commands of the applied event.