Template Details Panel
Reading time ~1 minutes
In this panel a user can manage an active Engine template: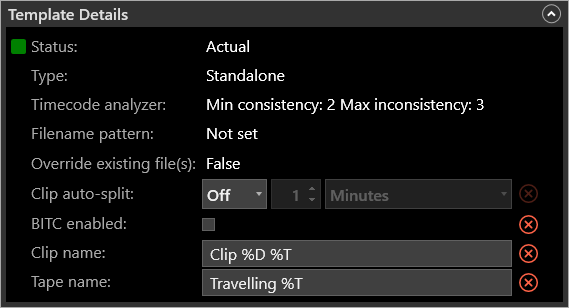 The topmost part of the panel displays the current status of your active template, its type and main parameters defined via the Template Editor.
In the "Clip auto-split" field you can specify the clips creation frequency for your recording session.
Check the "BITC enabled" option to overlay the tape timecode onto the output during recording.
Metadata Grouping
Archive templates contain metadata split into groups as configured in the Cinegy Archive database via Cinegy Archive Manager: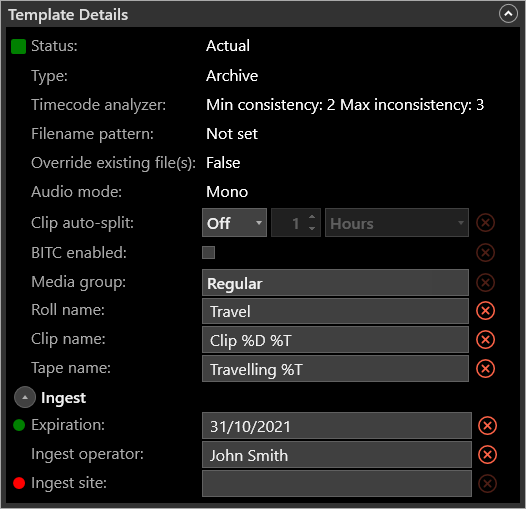 | | |
| --- | --- |
| Note | Metadata marked as mandatory in the Cinegy Archive database is labelled with a red circle and should be filled before Capture recording begins. Once filled, the circle turns green. |
For proper metadata validation, the Cinegy Archive Service should be installed and running. If the CAS is not available or database is not accessible, the metadata fields are placed into the "Unavailable Metadata" group and disabled to edit: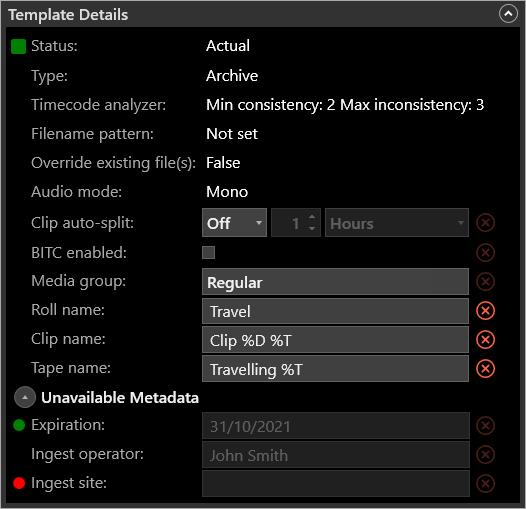 | | |
| --- | --- |
| | Press this button next to the corresponding metadata field to reset your changes and return to default settings. |