Step 2: Configuring Engines via Cinegy Capture Manager
Reading time ~4 minutes
Cinegy Capture Manager is an application for managing Cinegy Capture engine services. A Cinegy Capture engine service can be set up on a local computer or remote server. In this quick guide engine services and control panel will be set up on the same local computer.
| | |
| --- | --- |
| Caution | The main purpose of this quick guide is to perform Cinegy Capture express installation and setup for introductory use. In actual production you should use a professional equipment with specified drivers, such as SDI cards or IP, SRT and NDI input sources. Therefore, step 2 of the stage "Creating Capture Service" should be modified individually to match your actual capture source type. Refer to the Cinegy Capture System Recommendations for detailed information on OS and hardware recommendations, supported file formats, SDI boards and their compatible drivers. |
| | |
| --- | --- |
| | To launch Cinegy Capture Manager, go to Start > Cinegy > Cinegy Capture Manager or use the corresponding icon on the desktop. |
Initial Configuration
Following are the steps for initial Cinegy Capture Manager configuration: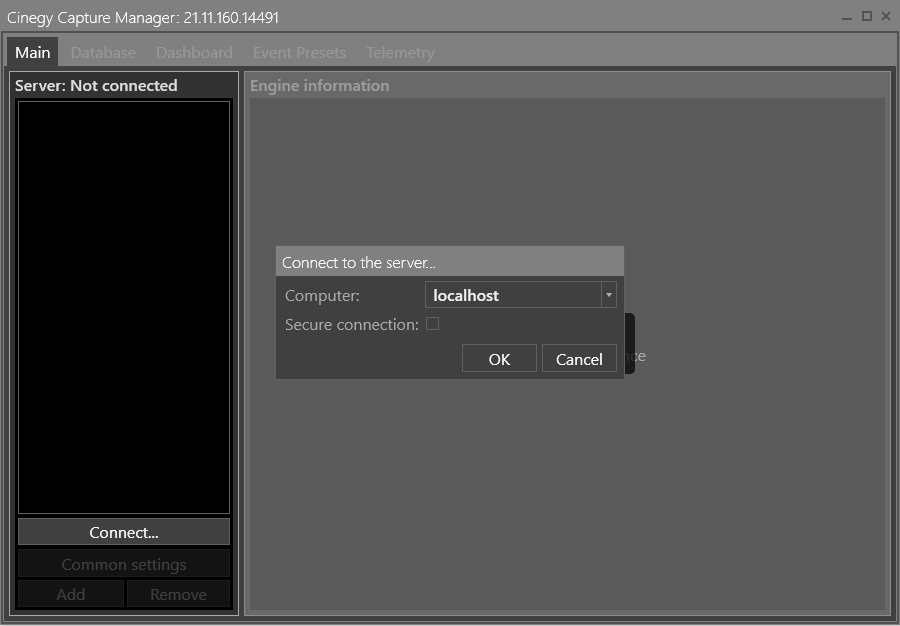 Each time you start Cinegy Capture Manager, the "Connect to the server…​" dialog box appears, prompting you to choose whether to connect to a local host or select a remote server. For demo purpose, select connection to the local host.

When launched for the first time, there are no database containing Cinegy Capture engines configurations. Go to the "Database" tab to create a new database:

| | |
| --- | --- |
| | Press the "Create new DB" button to create a new database. |

Having created the database, go to the "Main" tab.

On the "Main" tab press the "Common settings" button; the following dialog will be opened:

"Engine Mode" is set to "Pro" by default – leave this setting unchanged.

The IP address of the dedicated network adapter should be selected from the "Primary network interface" drop-down list, if available. Otherwise, the "Auto" option should be left unchanged.

| | |
| --- | --- |
| Note | Changing the "Primary network interface" settings should be based on recommendations of the system administrator. |

The "Logger settings" section contains parameters for creating log files; the default settings could be used.

In the "Master account control" select "Local system account" option.
Creating Capture Service
Cinegy Capture Manager allows user to add individual services for specific tasks. Follow the steps to create a Cinegy Capture engine service: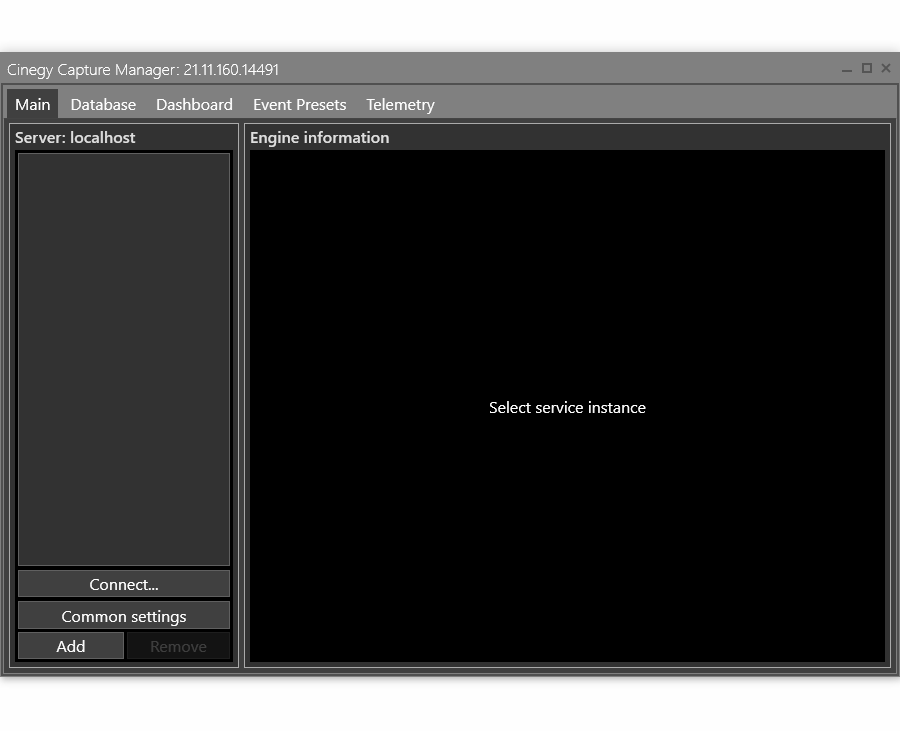 Press the "Add" button. A new service instance will be added to the engine services list and installed:

Once installed, the "Capture Service" is added as a regular Windows service. It can be started directly from Cinegy Capture Manager by pressing the "Start" button.

| | |
| --- | --- |
| Note | The service started for the first time is not configured. |

To set up the specified Cinegy Capture engine service, press the "Configure" button. In the "Capture Engine Configuration" dialog that appears, specify the recording job main parameters such as input TV format, capture source type, audio settings. You can also add a channel description and configure a stream preview here:

| | |
| --- | --- |
| Tip | If you have a recommended NVIDIA graphics card installed on your machine, you can greatly reduce CPU usage and significantly improve the overall performance of Cinegy Capture by using the processing power of your graphics card. To do this, select the appropriate option from the "Video Accelerator" drop-down list of the graphics cards installed on your machine. Please note that only NVIDIA-based accelerator is currently supported and requires the v430.х ODE driver set. |

Having specified all the necessary parameters, press "Next". On this step you can set up timecode settings (optional for demo purposes). Then press "Next" to configure the selected capture source settings. Different capture sources have individual sets of parameters specific to the selected type.

For a simple demo, select the file based capture source and specify its file path:

| | |
| --- | --- |
| Note | In this demo configuration the "File based capture" capturing source type is used. This source type is used exclusively for initial configuration and functionality testing. Do not use this capturing source type in production. |

Press "Next" to proceed; the defined configuration summary will be displayed for you to review. Press the "Finish" button for the specified settings to be applied:

| | |
| --- | --- |
| Note | You can add and manage multiple Cinegy Capture engine services simultaneously. |