Telemetry
Reading time ~2 minutes
Telemetry
| | |
| --- | --- |
| Important | The Cinegy Telemetry messaging is supported by the Grafana Labs server. For the detailed information please refer to the Grafana Labs website. You need to be assigned by Cinegy with Organization ID, which is empty by default. |
Telemetry messages are configured per server in the "Telemetry" tab: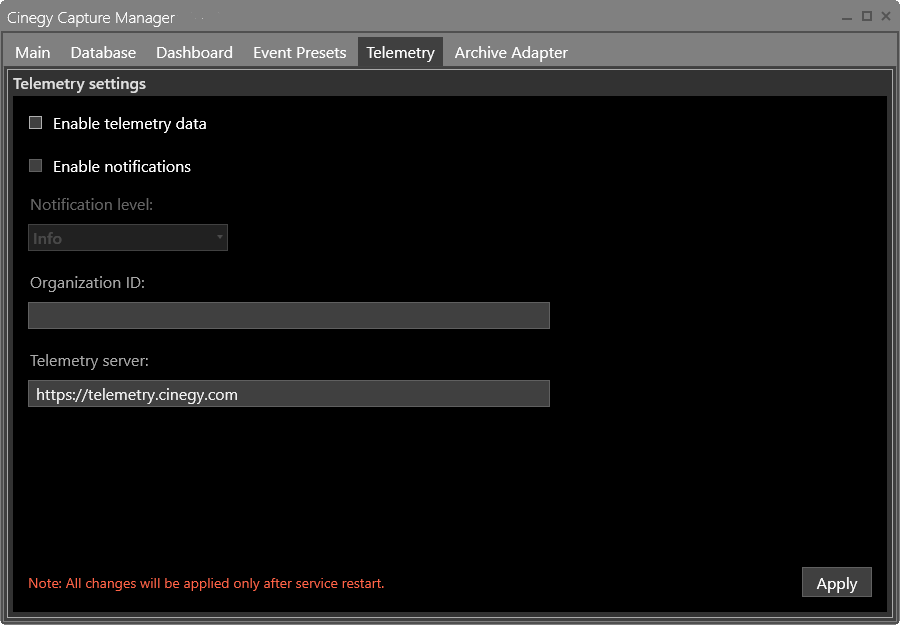 | | |
| --- | --- |
| Tip | By default, both telemetry data and notifications are disabled. |
Telemetry Data
Telemetry messages represent regular telemetry notification, including main parameters of the engine server and engine itself, such as CPU/GPU load, number of errors, etc. They are regularly sent by Cinegy Capture Agent and include technical information about all the running Capture engines on that server.
Notifications
Here you may choose one of the notification levels:
Info - notifications of user or automatic actions such as start / stop of capture session, clip splitting, etc.

Warnings - notifications of troubles such as timecode break, license loss or unexpected shutdown.

Errors - notifications of errors such as recording session failure or signal loss.
| | |
| --- | --- |
| Tip | The default notification level is "Info". |
| | |
| --- | --- |
| | Press the "Apply" button to save changes in telemetry settings. |
All the changes will be applied only after the Capture engines restart which requires your confirmation:

| | |
| --- | --- |
| Caution | Pressing "Yes" will cause Capture engines to restart. |
When switching from the "Telemetry" tab to another one with unapplied changes, the following message appears prompting you to save your changes.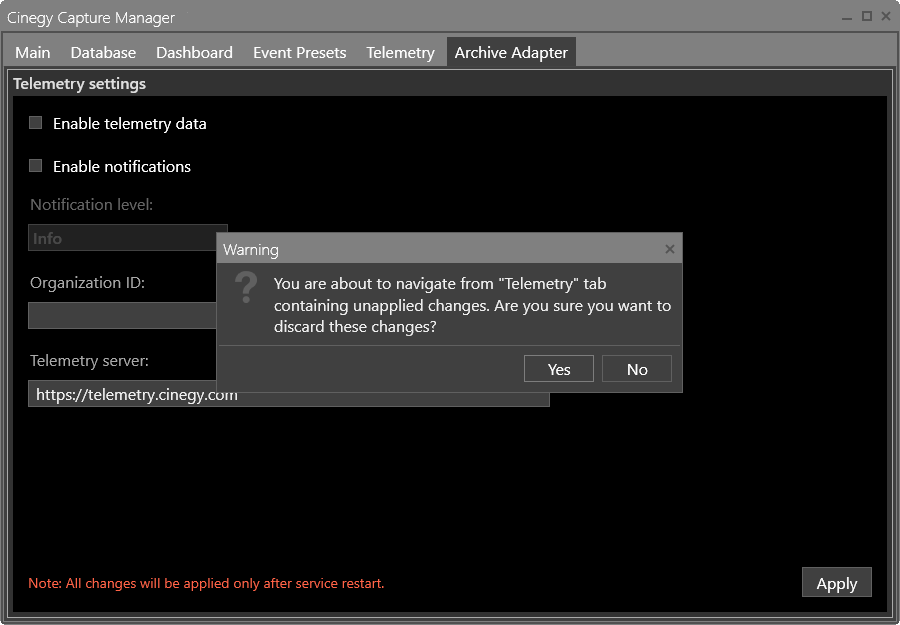 Pressing "Yes" will discard your changes and switch you to another tab, while pressing "No" allows you to stay in the "Telemetry" tab and apply your changes as it is described above.