Workflow
Reading time ~2 minutes
Double-clicking the job drop folder opens the job drop folder window, in which you can see the current status of tasks and manage them (delete, move, etc.) as it is shown in the example below:

The Cinegy Convert job folder
| | |
| --- | --- |
| Note | The nodes that have been inserted to the Cinegy Convert job drop folders are read-only and cannot be edited or deleted until they are completely processed. |
The job drop folder window consists of two parts:
The job list on the left.
This list displays all the tasks created in this folder. You can manage the tasks and see their current status (queued, processing or processed).

The object list on the right.
This list shows all the objects (clips or ClipBins) included in the task, which is currently highlighted in the job list.
All the queued tasks that have been selected in the job list are now ready to be processed. The tasks will automatically be performed by means of the Cinegy Convert Server (Legacy) utility.
To view the job metadata, right-click the corresponding job and choose the "Show metadata" command from the context menu; the "Metadata" dialog box appears:
Metadata fields are filled in automatically during the job processing. You can also edit them in the dialog via the keyboard when needed.
Job Re-Submitting
Cinegy Desktop supports the ability of re-submitting a job with any status but "queued" (processing, completed, failed). To re-send the job to Cinegy Convert Server (Legacy), right-click it in the list in the left part of the job drop folder window and choose the "Re-submit job" context menu command: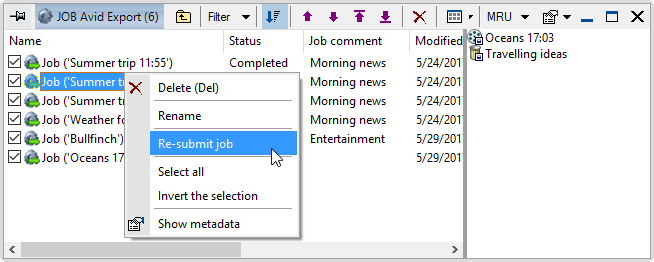 | | |
| --- | --- |
| Important | Refer to the Export article for a detailed description of the "Create a Job" dialog. |
The re-submitted job will have the "Queued" status and will automatically be processed by Cinegy Convert Server (Legacy) according to the predefined settings.
Job Terminating
You can terminate the job that is being processed. For this select the "Terminate job" command from the job context menu: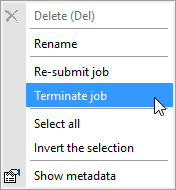 You will be asked to confirm your decision: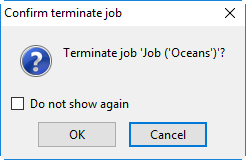 Press "OK" to terminate the job processing. The job status will change to "cancelled".