Cinegy Archive Tab
Reading time ~3 minutes
This tab is designed to manage Cinegy Archive connections and job folders in the corresponding Cinegy Archive databases. The tab displays the list of all database connections created and registered in PCS. These settings are used for Cinegy Archive targets and job folders creation.

| | |
| --- | --- |
| Important | You can add as many Cinegy Archive database connections as you need. Press the "+" button and fill in the form as described here. |
| | |
| --- | --- |
| Tip | This list is handy to simplify Cinegy Archive targets creation by re-using your settings as many times as needed. |
Press the

button next to the corresponding resource to edit it, or the

button to delete it.
Job Folders Configuration
Cinegy job folders and job drop targets can be managed via Cinegy Watch Service Configurator. To do this, press the

button to access the desired database from the list. The "Edit JDF" dialog appears. The database is displayed in a convenient tree-like structure: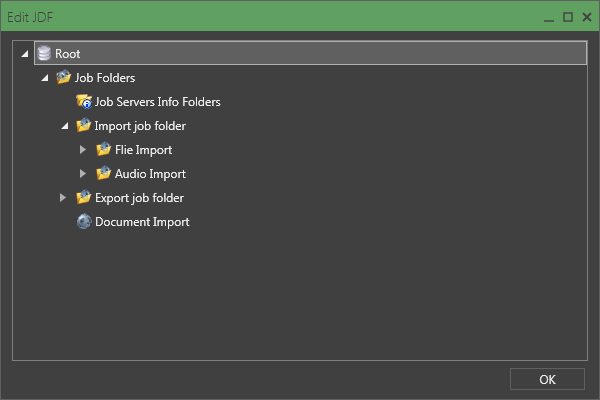 Right-click the "Job Folders" directory and select "Add job folder" to add a new job folder:

In the following dialog that appears enter the new job folder name:

Press "OK". The folder will appear in the database explorer.
To add a new export job drop target in the selected folder, right-click it and select the "Add Export job drop target" option: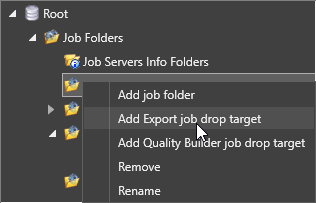 The "Add Export Job Drop Target" dialog appears allowing you to set the following parameters: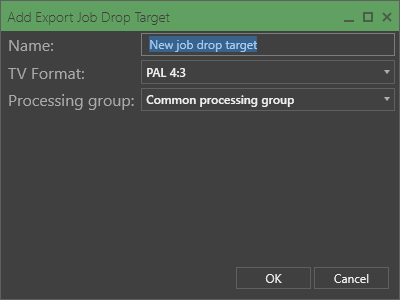 Name – use the keyboard to enter the new export job drop target name.

TV Format – select the required TV format from the drop-down list.

Processing group – select the required processing group from the drop-down list.
| | |
| --- | --- |
| Note | Only the common processing group is available in the current Cinegy Convert version. |
| | |
| --- | --- |
| Note | Adding Quality Builder job drop target is similar; the TV format option is not topical for this job type. |
| | |
| --- | --- |
| | To edit the name of a specific job folder or job drop target, right-click it and use the "Rename" command. |
| | To delete a specific job folder or job drop target, right-click it and use the "Remove" command. |
| | The "Edit" command is available from the job drop target right-click menu and is used for editing its name, TV format, and processing group in the dialog that appears. |
All the changes made on the "Watch Folders" tab of the Cinegy Convert Watch Service Configurator are immediately applied in the database and displayed in the Cinegy Desktop Explorer: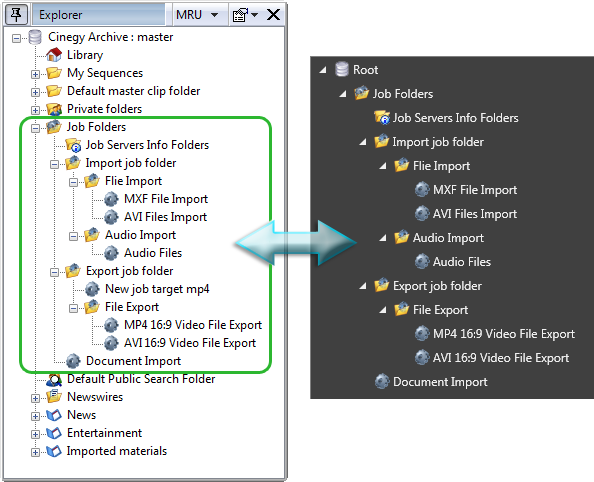 | | |
| --- | --- |
| Note | Please mind that for a job drop target to become ready for media transcoding tasks, a watch folder for monitoring nodes sent to the job drop target should be properly set up. |