Step 2: Cinegy PCS Configuration
Reading time ~3 minutes
The PCS configurator launches automatically immediately after the installation is complete.
On the Database tab, the SQL connection settings should be set.
| | |
| --- | --- |
| Caution | Cinegy PCS uses its own database for storying the processing related data: configurations setttings, tasks queues, tasks metadata, etc. This database is independent and has no relation to Cinegy Archive. |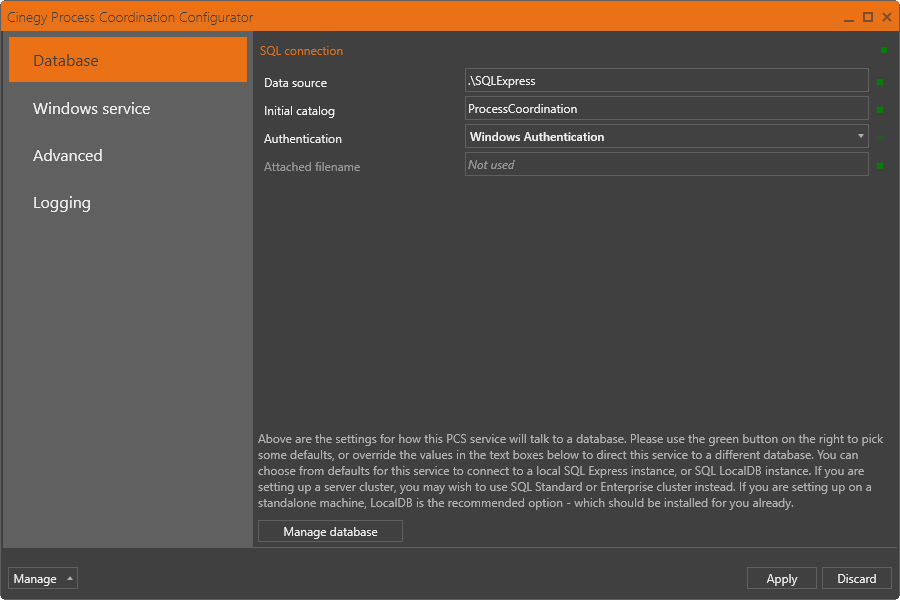 Use the
button next to "SQL connection" to select defaults to connect to a local SQL Express instance or SQL LocalDB instance.

You can also change the values to direct this service to a different database. If you are setting up a server cluster, you can use SQL Standard or Enterprise cluster instead.
Being based on the MS SQL Local DB database engine, the internal database is suitable for evaluation purposes only. It works out of the box and requires no additional setup. However, we strongly recommend using an external database as a back-end Cinegy PCS database in a production environment. An external database is usually more reliable and provides better performance. Also, the internal database may become extremely slow on large data sets. Please also note that our support does not cover any performance or database data loss issues if you are using the internal database.
| | |
| --- | --- |
| Caution | Please pay special attention that we strongly recommend not to use internal MS SQL Local DB database for large production Cinegy PCS instances. |
For the SQL Server connection configure the following parameters:
Data source – specify the existing SQL Server instance name.

Initial catalog – define the database name.

Authentication – use the drop-down list to select whether the Windows or SQL Server authentication will be used for access to the created database.

With the "SQL Server Authentication" option selected, the required field becomes highlighted with a red frame; press the button to expand the "Authentication" settings. Type in the username and password in the corresponding fields.
If you have chosen the LocalDB connection type, you only need to specify the database name:

Having specified the database parameters, press the "Check database" button. The "Database validation" window will appear performing the database validation steps: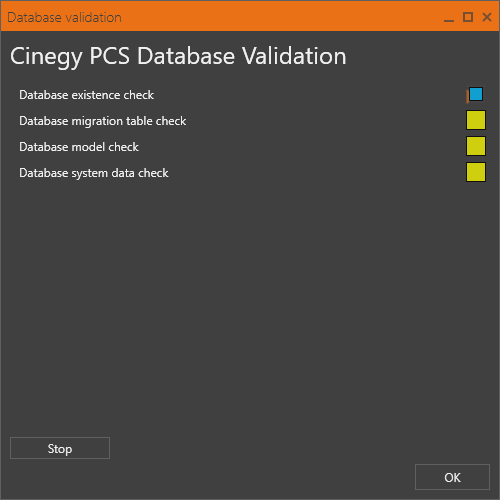 During the first run, the database validation will detect the database does not exist yet.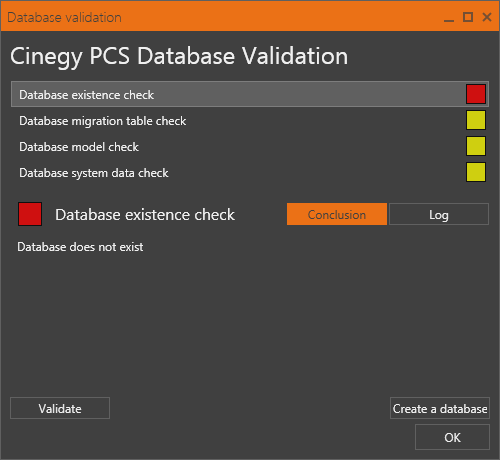 Press the "Create a database" button. Press "Yes" in the confirmation dialog to continue with the database creation. In the next window, the database creation stages are listed. Once the database is created, press "OK" to exit the window.
Having specified the database settings, press the "Apply" button to save them.
Go to the "Windows service" tab to proceed with configuration. Press the "Install" button to install Cinegy PCS as a Windows service.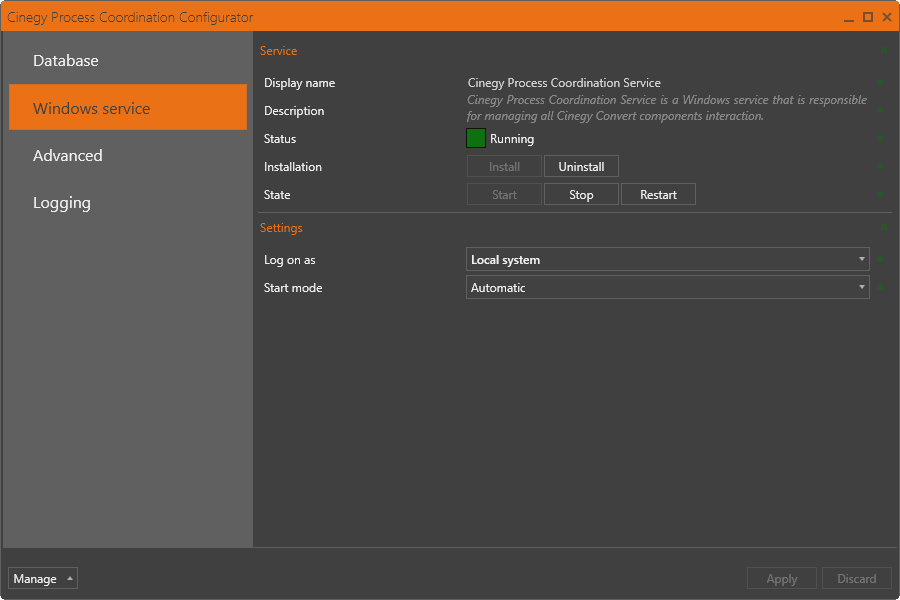 Once the service is installed, it should be started manually by pressing the "Start" button.
The status indicator will turn green meaning that the service is running.

In the settings section, define the logon parameters and service start mode.
| | |
| --- | --- |
| Tip | It is recommended to use the "Automatic (Delayed)" service start mode, which enables automatic service start immediately after all the main system services have been started. |