Handling Transcoding Targets
Reading time ~2 minutes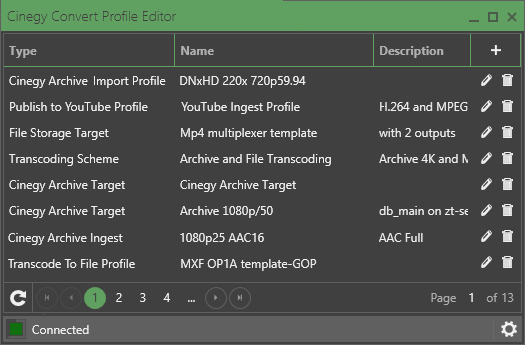 Profile Management
Duplicate
Use the "Duplicate" context menu command to create a copy of the profile: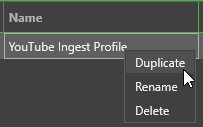 Rename
Use the "Rename" context menu command to rename a profile: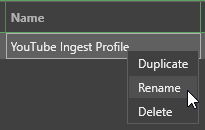 The corresponding dialog box appears: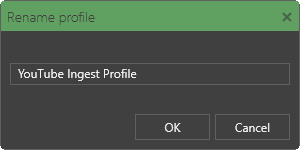 Enter a new name for your profile.
Edit
| | |
| --- | --- |
| | Press this button to edit the corresponding profile resource in the dedicated editor that appears. |
| | Cinegy Convert Profile Editor will check if the modified profile is used via the Cinegy Convert Watch Service. In case profile is already in use, the corresponding warning message will be displayed: |
| | |
| | An operator is able to update the watch folder settings with the modified profile, if required. |
Delete
| | |
| --- | --- |
| | Press this button to delete the corresponding profile resource; you will be asked to confirm your decision to remove the resource: |
| | |
The same action is performed by the "Delete" context menu command: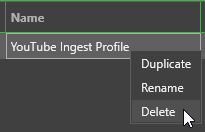 Exporting and Importing
It is possible to save the prepared profiles, templates, encoder settings, CAS configuration, etc. as a PCS resource or an XML file for further use by pressing the

icon next to the topmost field of the profile resource edit form and selecting the respective export command:

The import from a PCS resource or an XML file is available in the similar way.
Column Adjustment
Cinegy Convert Profile Editor is represented as a table with 4 columns. You can adjust the column width by dragging the grid line between the column headers until the desired width is reached:

It is also possible to adjust the columns order via drag-and-drop:

Table Navigation
In case of a large number of profile resources, their list is split into multiple pages:

| | |
| --- | --- |
| | The current page is highlighted with a green circle. |
| | To go directly to the desired page, click the corresponding page number. |
Use the

and

buttons to navigate through the previous and next pages of the list.
Use the

and

buttons to jump to the first and last pages correspondingly.
| | |
| --- | --- |
| | The "Refresh" button renews the folder content. |