Monitoring Tasks
Reading time ~3 minutes
Cinegy Convert Agent Manager dashboard is mainly an informative tool serving as a tracker of all performed tasks and the agents processing them, as well as general system technical information.
The Cinegy Convert Agent Manager interface consists of two tabs intended for monitoring each agent and each task they perform.
Agents
The "Agents" tab displays the amount of tasks available to be processed simultaneously. The number of slots depends on your Cinegy Convert license. One slot corresponds to processing one task at a time. The free slot available for assigning a task is indicated with a corresponding sign.
The tasks are assigned to any available slot automatically. Once the task processing is complete, the slot becomes empty and is ready for assigning a new task.
During the task processing, the additional details are displayed in the corresponding slot as follows: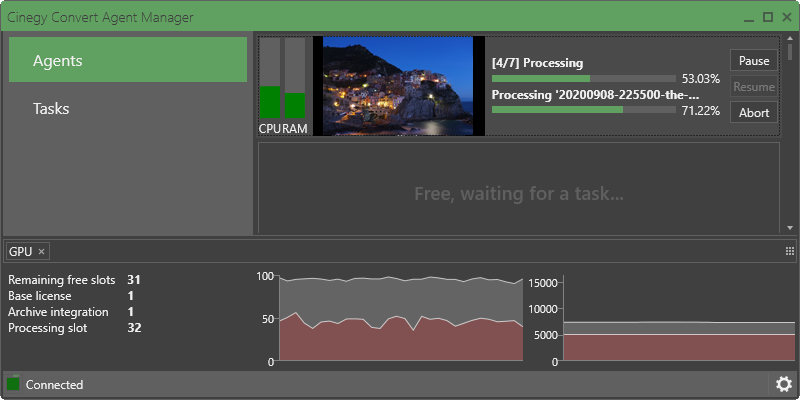 When a task is being processed by Cinegy Convert, its progress bar displays two independent processes:
the top bar shows the progress of stages 1 to 7.

the bottom bar shows the progress of an individual stage from 0% to 100%.
| | |
| --- | --- |
| | Press the "Pause" button to suspend the current task processing. |
| | Press the "Resume" button to proceed processing the paused task. |
| | Press the "Abort" button to permanently terminate the task being processed. |
| | |
| --- | --- |
| Important | Please note that pausing, resuming, and terminating tasks takes effect in both Cinegy Convert Agent Manager and Cinegy Convert Monitor once the action performed via either of them. Refer to the Cinegy Convert Monitor Manual for details on working with Cinegy Convert Monitor. |
Tasks
The "Tasks" tab displays the list of tasks performed by the current agent manager machine. The information on the task includes the task ID and its status: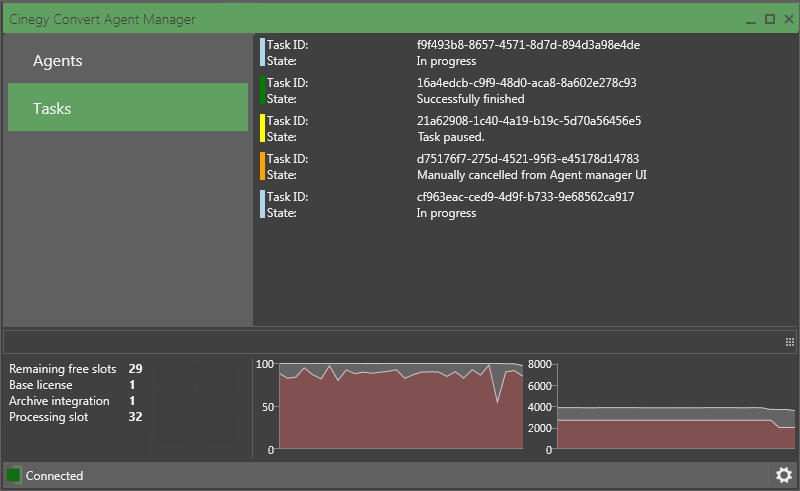 | | |
| --- | --- |
| | The tasks, processing which has succeeded, are defined as "Successfully finished", and the color of their status indicator is green. |
| | The currently being processed tasks are marked with the "In progress" sign and a blue status indicator. |
| | The red status indicator implies that the task processing has been terminated or failed. These tasks are marked with the corresponding message explaining the reason of termination. |
| | The paused tasks have a yellow status indicator. They are defined as "Task paused". |
| | The manually cancelled tasks have an orange status indicator and the "Manually cancelled from Agent manager UI" sign. |
More detailed information on all performed tasks is available in the log files stored in the following path: C:\ProgramData\Cinegy\Cinegy Convert\[Version number]\Logs\.
Process and Memory Usage
The bottom panel indicates available licenses and slots details as well as the level of central processor and physical memory usage:

| | |
| --- | --- |
| Caution | The Base license is required on each server to enable Cinegy Convert tasks processing. |
The diagram on the left tracks the CPU usage, the one on the right displays the level of physical memory usage. On both diagrams, the gray area indicates resources taken by the system in general, while the red area shows the amount of the resources used by Cinegy Convert.