Step 7: Manual Tasks Creation
Reading time ~3 minutes
| | |
| --- | --- |
| | Cinegy Convert Client provides a user-friendly mechanism for manual convert tasks submission. To start this application, use the icon on Windows desktop or launch it from Start > Cinegy > Convert Client. |
Setting Up
The first step is to set up a connection to the Cinegy PCS.
| | |
| --- | --- |
| | Press the "Settings" button on the toolbar to launch the following configuration window: |
| | |
In the "General" tab, define the following settings:
PCS host – specifies the name or IP address of the machine where the Cinegy Process Coordination Service is installed;

Heartbeat frequency – time interval for the Cinegy PCS to report it is running properly.

PCS services update frequency – time interval for the Cinegy PCS to update information about the internal services used by clients.
Also here you can check the "Join clips" option to enable the combining of multiple clips into a single file with common metadata during transcoding.
Selecting Media
In the "Path" field of the Location Explorer, enter the path to the media storage (video files or virtual clips from Panasonic P2, Canon or XDCAM devices) manually, or navigate to the desired folder in the tree. The media files contained in this folder will be listed in the Clip Explorer. Select a file to view it and manage its In and Out points in the media player: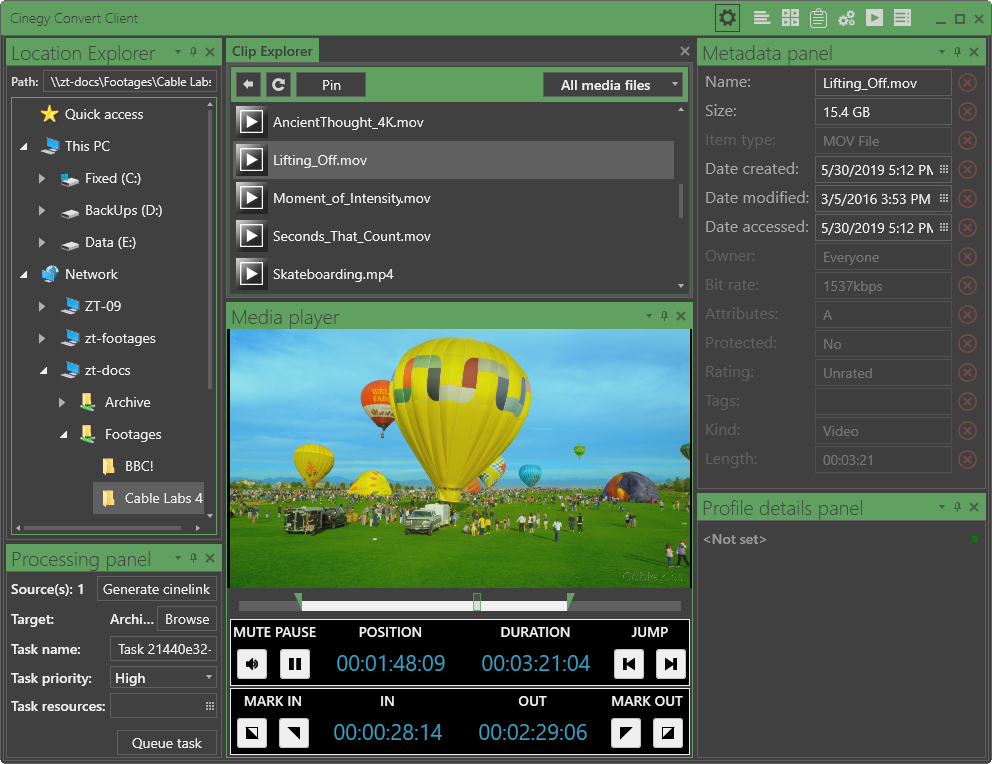 | | |
| --- | --- |
| Tip | Optionally, you can define the metadata for the currently selected media file or virtual clip in the Metadata panel. |
| | |
| --- | --- |
| Tip | By holding down the Ctrl key, you can select multiple files / virtual clips at once to include them in a single transcoding task. |
Task Creation
The transcoding task properties should be managed in the processing panel:
Press the "Browse" button in the "Target" field to choose a transcoding target added to the database on Step 5. The parameters of the selected target profile can be managed in the "Profile Details panel":

Press the

button in the "Task resources" field to select the capability resources created on Step 5.
Optionally, you can edit the name of the task generated automatically, and also define the task priority in the corresponding fields.
| | |
| --- | --- |
| | Once task to be processed is configured, press the "Queue task" button to add tasks to the Cinegy PCS queue for processing. |
When the task is created, it will be added to the queue of active transcoding tasks in Cinegy Convert Agent Manager: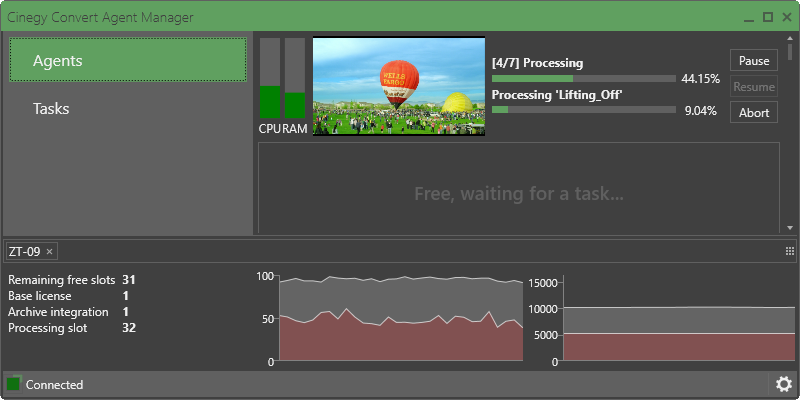 | | |
| --- | --- |
| Tip | Multiple tasks can be processed simultaneously and this is limited by the license available for Cinegy Convert Agent Manager. |