Cinegy Desktop Installation
Reading time ~2 minutes
| | |
| --- | --- |
| Note | It is recommended to copy the Cinegy Desktop installer on a shared location in your network so that all client machines can access the package for convenient installation. |
| | |
| --- | --- |
| Caution | At least local administrator rights are required to install and configure Cinegy Desktop on your computer. |
Run the Setup.exe file from your Cinegy Desktop installation package. The following wizard takes you through the installation steps: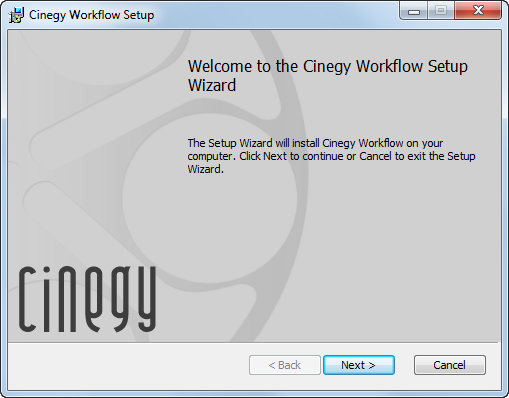 Press "Next" to proceed with the Cinegy products installation or "Cancel" to abort and exit the setup wizard.
Select the checkbox to accept the license agreement and press "Next" to proceed.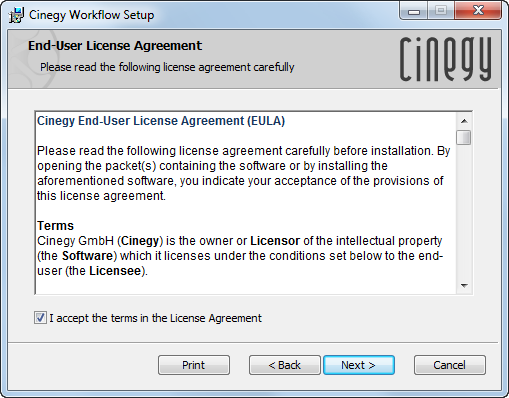 Select the components to be installed along with Cinegy Desktop.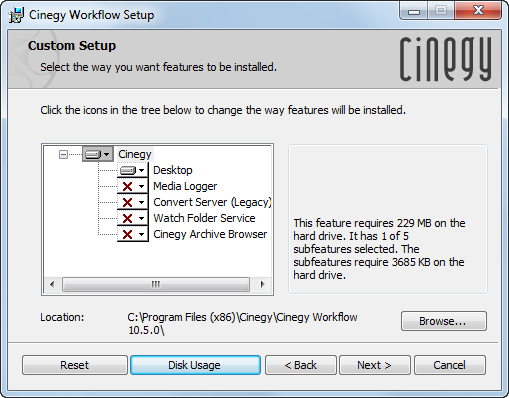 The following components are available in the Cinegy Desktop installer:
Desktop – a client providing software logging, browsing and video editing as well as features for creating news Stories and writing scripts. It connects to the Cinegy Archive servers to fulfill these tasks.

Media Logger – a tool associating a Roll with a script in the RTF or TXT file format that simplifies the process of Roll logging and filling it with metadata.

Convert Server (Legacy) – Convert Server is a separate utility that executes all the incoming tasks to the job drop folders. Cinegy Convert uses different types of job drop folders for automated material exporting, importing and creating of non-existent qualities for the Roll according to the defined configurations.

Watch Folder Service – a standalone utility that provides means for automated import of various files and documents to Cinegy Desktop via watching the pre-configured file folders for the appearance of new files in specified formats and creating import jobs for their processing.

Cinegy Archive Browser – a separate utility that provides access to the Cinegy Archive databases. Cinegy Archive Browser allows user to transfer Cinegy objects directly from the Cinegy Archive database into Avid Media Composer projects via drag-and-drop.
| | |
| --- | --- |
| | Press the "Browse" button to change the installation directory, if needed. |
| | Press the "Reset" button to revert the additional components selection. |
| | Press the "Disk usage" button to view the disk space requirements and availability information. |
Having selected the required components, press "Next".
In the following dialog, press the "Install" button to confirm the installation. A progress bar will show the progress of the installation process.
| | |
| --- | --- |
| Important | Cinegy Configurator is launched automatically during the installation. You can specify the required settings immediately or press "Cancel" to do it later. Please see the Cinegy Configurator article for details on configuring Cinegy Desktop. |
Press the "Finish" button in the next dialog to exit the setup wizard.