Search Window
Reading time ~1 minutes
Your Cinegy Archive database will probably grow very quickly, meaning you need a sophisticated search engine to find the video material and documents you are looking for. In this section you can get familiar with the different kinds of search available in Cinegy Desktop – use the simple search to find files very quickly and the advanced search to get an even more precise search result.
There are two main ways to open the search function. You can go to the main toolbar and select the "Search" command from the "Modules" > "Main" context menu: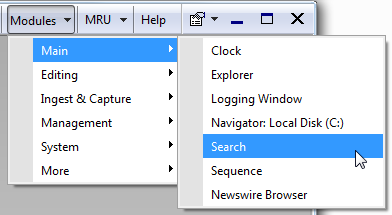 Or you can select the "Search from here…" command from the explorer tree: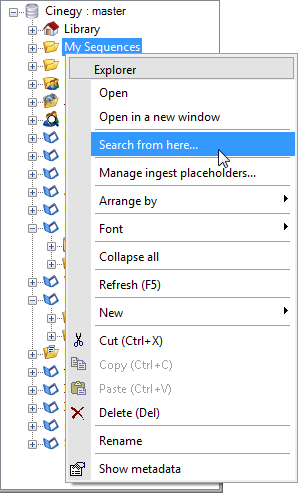 Both ways will open the same search window, the difference can be seen in the "Searching within" path. The standard setting is the entire Cinegy Archive storage and this is used when you open the search window by pressing the "Search" button on the main toolbar, as described above.
If you select the "Search from here…​" command from the explorer tree, the "Searching within" field will show the directory of the selected object in the explorer tree: