Batch Ingest Interface
Reading time ~1 minutes
The Batch Ingest plug-in provides you with the ability to automatically create multi-session ingests. It automatically controls the ingest plan and starts and stops the recording. The newly ingested master clips will receive the metadata from the ingest plan and the current setting of the ingest Roll info.
To open the Batch Ingest plug-in window, select the "Batch Ingest" command from the "Modules" pull-down list in the "Ingest & Capture" category in Cinegy Desktop: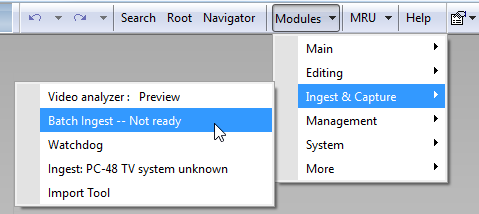 The following window appears:

In the upper panel you will find the batch list. The middle panel displays information such as Roll ID, Roll name and target. The middle panel also offers a text box where you can enter additional information. The lower panel is the control panel.