Cinegy Cinecoder MPEG-2
Reading time ~2 minutes
Cinegy Ingest uses a high-end MPEG encoder named Cinegy Cinecoder. This codec was designed specifically to fulfill the need for the highest quality real-time encoding, required for Cinegy Desktop.
Cinegy Cinecoder MPEG Setup
| | |
| --- | --- |
| | Press the setup button of one of the Cinegy Cinecoder plug-ins in the ingest window: |
| | |
| | The following dialog box appears: |
| | |
Cinegy Cinecoder provides a wide range of settings for the output MPEG stream. The MPEG compressor gets the settings from profiles, stored in Cinegy Archive.
Compress on Remote Server
This feature provides the compression on a dedicated remote encoder system.
Select the "Compress on a remote server" option.

Set up the ID of the remote machine where you are running the encoder.
Write CC to SAMI File
Check this option to write closed captions (CC) to a SAMI file. SAMI files (Synchronized Accessible Media Interchange) are text files with an *.smi or *.sami extension. These files contain text strings, subtitles and audio description. They also specify the timing parameters used by multimedia applications like Windows Media Player to synchronize closed captions with audio/video.
Select MPEG Profile
Press the "Select the MPEG profile" button and select your profile: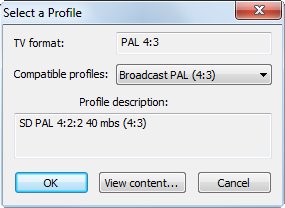 | | |
| --- | --- |
| Note | The MPEG settings dialog of Cinegy Cinecoder allows only relevant MPEG profiles to be selected. |
To view settings of the MPEG profile, press the "View content…​" button.
| | |
| --- | --- |
| Note | You need to have enough privileges to "View the High quality" to review the content of any profile. |
| | |
| --- | --- |
| Important | Refer to the TV Formats, Profiles article within the Cinegy Enterprise Manager Manual on how to create Cinegy Cinecoder MPEG-2 profiles or ask your system administrator. |
Direct Transcoding
The "Direct transcoding" option provides the ingest of the video in MPEG-2 format without re-encoding. Select the option to enable this mode:

| | |
| --- | --- |
| Note | If video is not in MPEG-2 format, only audio will be ingested when "Direct Transcoding" is enabled. |
Superimpose Timecodes
To add the timecode in the form of a running clock superimposed over the encoding footage, select the "Superimpose timecodes to the frames (encoding only)" option.
Output Buffer
This feature allows you to set up the desired number of frames for the output buffer.