Overview
Reading time ~2 minutes
Cinegy Archive is a centralized media asset management system that allows simultaneous access and collaborative working with the media assets for all its users. New media assets can be registered in Cinegy Archive in the following ways:
Live streams are captured using Cinegy Capture Desktop Edition;

File based sources are captured using Cinegy Convert Desktop Edition.
The Cinegy Convert plugin provides convenient means to monitor the Convert work as well as create jobs manually and perform repetitive tasks automation. Its interface allows controlling overall system status, submitting tasks manually along with managing them. The generated via specific task execution content is "printed" to the predefined destinations in Cinegy Archive database. With this extended workflow Cinegy Desktop client becomes far more powerful tool for clients.
The general concept of the interaction between Cinegy Archive and Cinegy Convert is represented in the following diagram: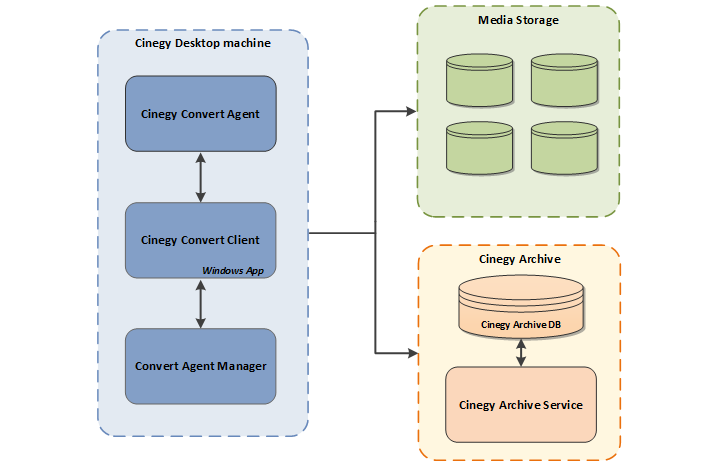 The Cinegy Convert plugin is added to the Cinegy Convert installation package by default. The installation should be started on the computer where Cinegy Desktop is running.
When the Cinegy Convert application is installed on the same machine where Cinegy Desktop is running, the Convert plugin becomes available in the "Modules" list on the main Cinegy Desktop toolbar:

Selecting the "Convert" plugin launches the Cinegy Convert Monitor application:

Make sure the Cinegy Convert Monitor connection to PCS is established successfully. The indicator in the bottom part of the window shows the connection state. The green and red indicator colors signify the corresponding connection status.