Shot Boundary Adjust
Reading time ~2 minutes
You can adjust boundaries of the master clips at any time. Nevertheless, it is a good idea to make the adjustments before you let users start working on the material.
Joining Master Clips
To join two master clips, do the following:
Select the two master clips next to each other. Make sure there are yellow triangle connectors between the clips:

Choose the "Join" command from the clip context menu.
Splitting a Master Clip
You can split a master clip at a specified position:
Double-click the desired master clip to launch the clip viewer plug-in.

Put the time slider at the desired position.

Close the clip viewer window.

Choose the "Split at current position" command from the right-click menu. You will be asked to confirm splitting the clip by pressing "OK".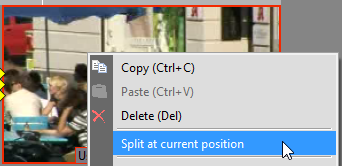 Deleting a Master Clip
To delete a master clip follow the steps:
Choose the "Delete" context menu command or hit the Delete key.

A dialog box appears asking you to confirm the action. Press "OK".

You can use the "Undo" command to restore the deleted Roll.
| | |
| --- | --- |
| Note | Master clips are not physically deleted but are just marked as deleted. Thus, the operation does not affect the ClipBins and Sequences that already refer to them. |
Deleting a Roll
If any technical problems are encountered during capture session, you may want to delete the entire Roll and try to re-ingest the material. To do this, select the "Delete" command from the Roll context menu in the explorer window.