General Settings
Reading time ~2 minutes
Here you can specify audio and title font parameters as well as enable the remote control option: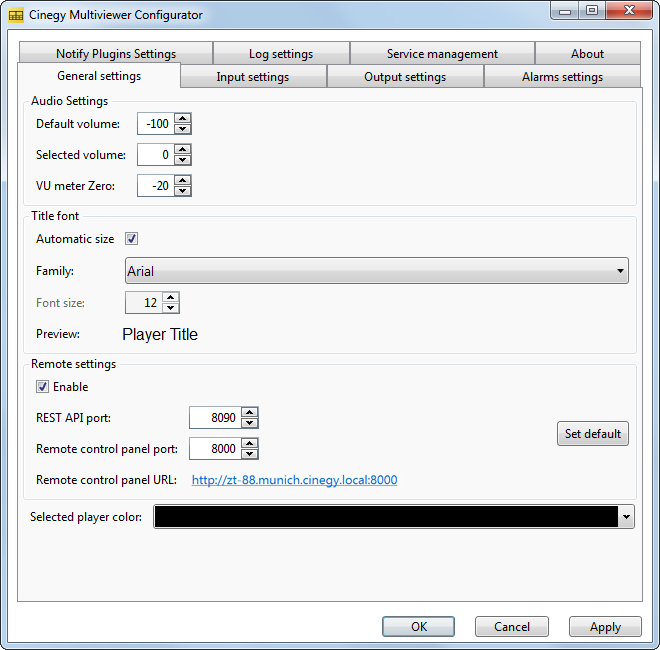 Audio Settings
The following audio parameters can be specified:
Default volume – the volume value for all the channels being monitored by default. When this value is set to -100 dB (by default) all the channels in the Cinegy Multiviewer window are muted. To turn on the audio for all players in the window, set the desired volume level in this field.

Selected volume – the volume value for the selected channel.

VU meter Zero – the level to consider digital "zero", -20dB by default.
To change the default values, press the up/down arrow button or enter a desired value via the keyboard.
Title Font Settings
This configuration group allows you to define font parameters for a player title.
Select the "Automatic size" checkbox to enable automatic scaling of the player title font according to a player window size. When this option is selected, the "Font size" parameter is grayed out.
Choose the preferred font family from the corresponding pull-down list and define its size in the "Font size" field by pressing the up/down arrow button or entering the desired value via the keyboard. Your changes are immediately displayed in the "Preview" field.
Remote Control
A simple, embedded HTML remote control is provided by Cinegy Multiviewer. This HTML page uses REST web services to communicate commands to the Multiviewer. By default, the remote control is published by an embedded web server hosted on port 8000, making the control page available at the following URL:
http://<yourmachinename>:8000
You can adjust the default ports used here, but please be aware that adjusting the REST API Port will stop the embedded remote control page working.
Selected Player Color
The visual indication of the selected player is achieved by selecting the border color in which the player will be highlighted. Choose the desired color from the drop-down list: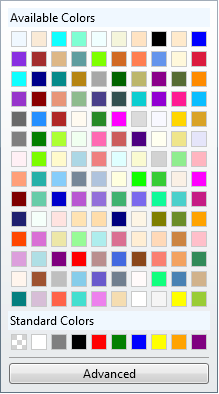 It is possible to adjust the color transparency by pressing the "Advanced" button and defining the alpha value: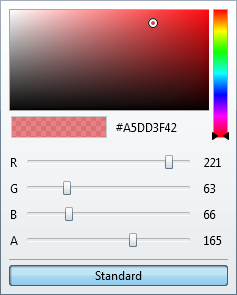 To return to the color selection drop-down list, press the "Standard" button.