Notification Settings
Reading time ~3 minutes
All signals monitored by Cinegy Multiviewer can be analyzed to raise alerts for any detected signal problems. The alerts receiving options can be configured on this tab. Depending on the defined severity type various notification plugins can be selected. The description of each notification plugin is provided below in details.
File Notifications

Specify the severity type for the notifications report to be saved to a text file. The log file location can be specified by pressing the "…​" button.
Windows Event Logs

Specify the severity type of the alerts to be recorded in the Windows Event Log and the event entry type.
To see the Event Log, go to Start > Control Panel > System and Security > Administrative Tools > Event Viewer. In the Windows Log > Application section the alerts of the specified entry type will be listed.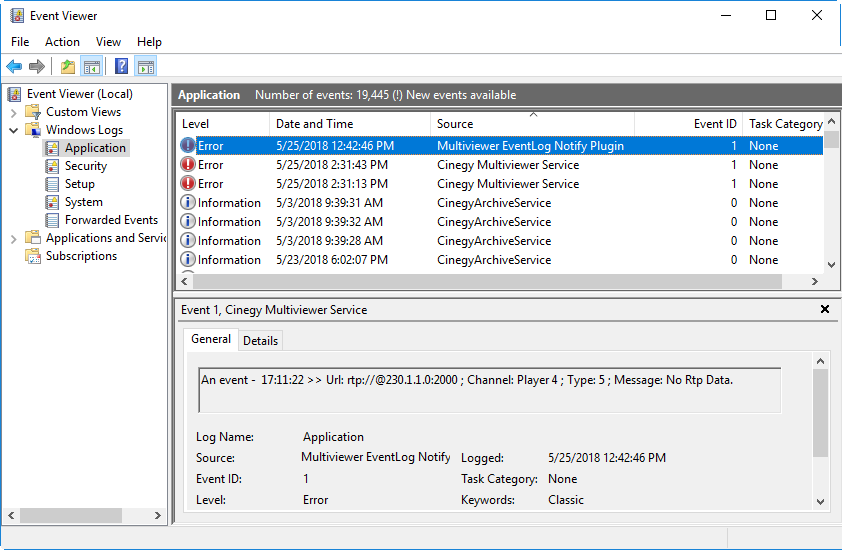 E-Mail Notifications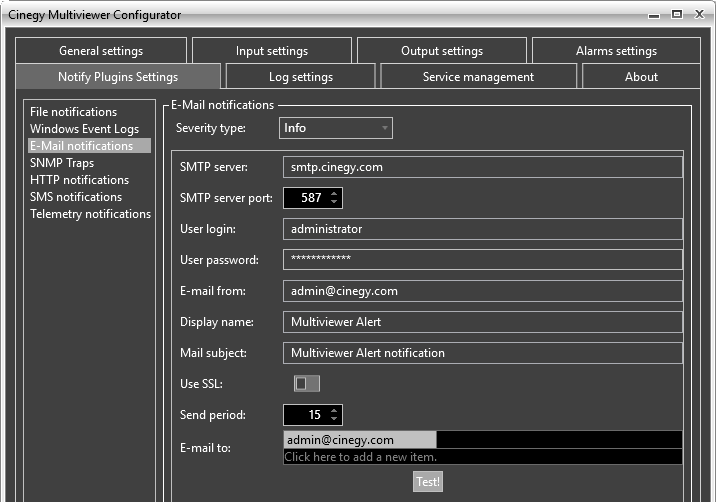 First specify the initial severity type of the alert you would like to receive by e-mail. All alerts of the selected type and above will be sent.
Then enter the e-mail account settings from which the notifications will be sent. Add the recipient e-mail address(es) by clicking on the field with the hint. Use the Delete keyboard key to remove the address(es) from the list.
Use the "Test!" button to send a test e-mail and check the configured settings.
SNMP Traps

SNMP trap log provides a history of SNMP traps, sent to the specified IP host. Define the notification severity type and the IP address of the trap destination.
Use the "Test!" button to check the configured settings.
HTTP Notifications

The HTTP logging notification for the defined alert type can be sent to the specified WEB URL. Please, check the sample WEB server implementation provided with the Cinegy software installation package.
In the Cinegy Multiviewer Configurator it is necessary to specify the alerts severity type and the name and port number of the HTTP server to receive alerts.
SMS Notifications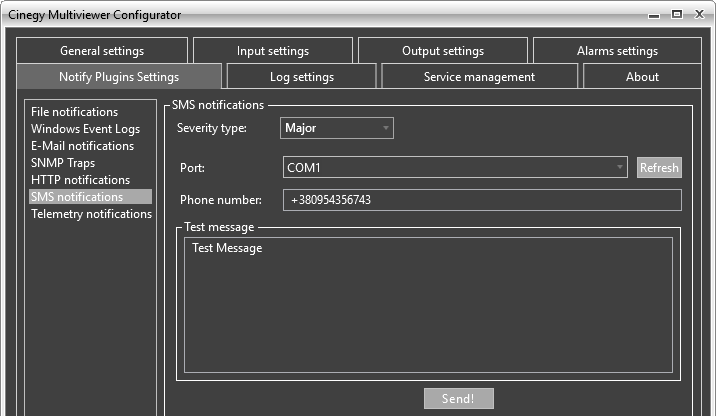 To enable sending notifications by SMS, select the alerts severity type first.
The GSM modem is required to be able to send SMS notifications. Connect and turn on the device and press the "Refresh" button for the system to recognize it.
Specify the port and telephone number to receive messages.
You can send a test message to check the connection. Enter the test message text and press the "Send!" button.
Telemetry Notifications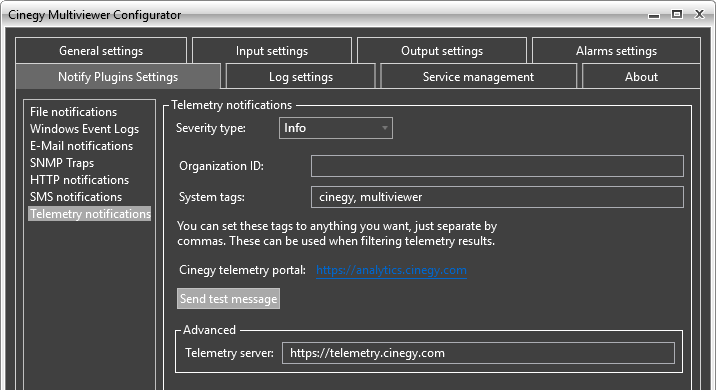 The telemetry notifications are logged into Grafana portal deployed inside the Cinegy Telemetry cluster.
To configure the telemetry notifications, first define the severity type. Then specify the Organization ID (unique for each customer) and set the system tags to filter telemetry results.
To access the telemetry portal, follow the link in the "Cinegy telemetry portal" field and specify your credentials.
Press the "Send test message" button to test the telemetry notifications.
The destination address of the telemetry data can be viewed in the "Advanced" window.