Profiles Management
Reading time ~2 minutes
With the PCS set up and running, Cinegy Process Coordination Explorer can be launched.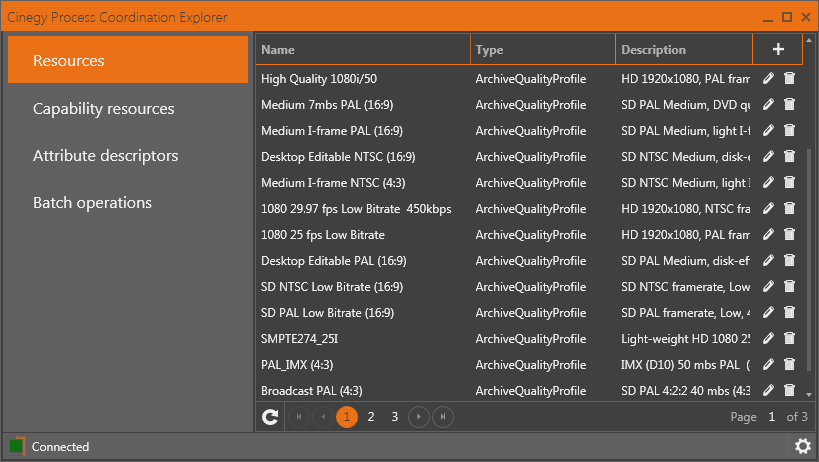 This utility is used for creating, exporting, importing and monitoring all resources of your system stored in the PCS database. Initially, the resources list is empty.
The green indicator in the bottom part of the window shows successful connection to the PCS:

The status of connection to the PCS updates every 30 seconds, so that in case of connection loss you will know immediately. In case of failure, the indicator becomes red:

| | |
| --- | --- |
| Caution | If the PCS Windows service is not running, all functions are disabled and the corresponding message is displayed in the Cinegy Process Coordination Explorer window. |
The Cinegy PCS Explorer creates a log file where all activities are recorded. To open this file, press the

button and use the "Open log file" command:

The "Settings" command launches the following PCS connection settings dialog: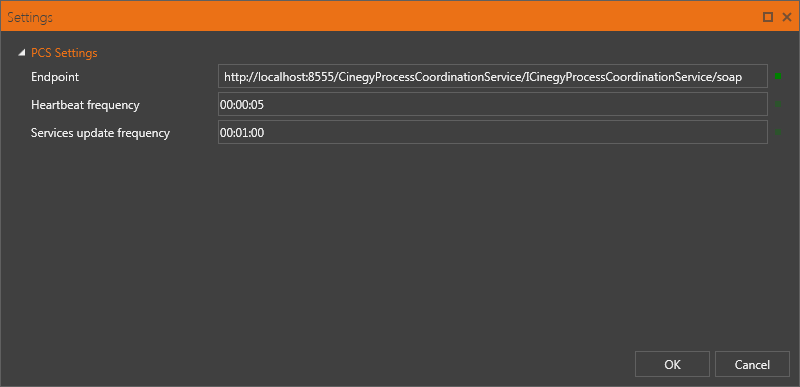 Here you can modify the default values for the following parameters, if needed:
Endpoint – by default, the configuration is set to connect to the Cinegy PCS installed locally on the same machine (localhost) and use the default port 8555. In case the PCS is installed on another machine or another port should be used, the endpoint value should be modified:

http://[machine name]:[port]/CinegyProcessCoordinationService/ICinegyProcessCoordinationService/soap
where:

machine name – specifies the name or IP address of the machine where the PCS is installed;

port – specifies the connection port configured in the Cinegy PCS settings.

Heartbeat frequency – time interval for the Cinegy PCS to report it is running properly.

Service update frequency – time interval for the Cinegy PCS to update information about the internal services used by clients.