Step 2: Enabling Cinegy Player PRO Features
Reading time ~1 minutes
To configure Cinegy Player, select the "Preferences" command from the context menu: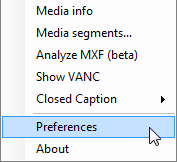 | | |
| --- | --- |
| Caution | To enable customizing preferences, the application must be run under a user account with administrator rights. Customizing preferences under other user accounts is possible only if the relevant registry permissions have been changed. |
| | |
| --- | --- |
| Important | For complete description of the Cinegy Player and Player PRO, please refer to the Cinegy Player Manual. |
To enable the Cinegy Player PRO features, check "Use Cinegy Player PRO features (requires PRO license)" in the preferences dialog that appears: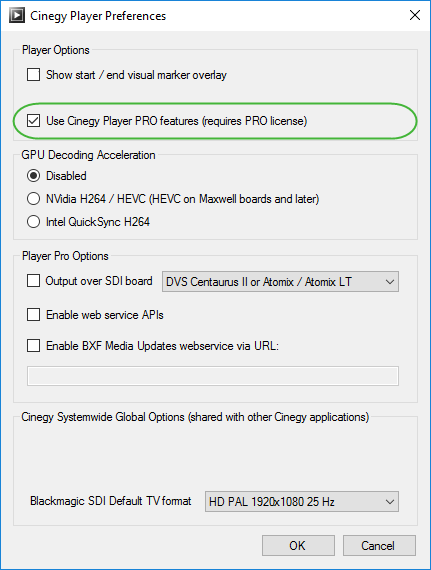 | | |
| --- | --- |
| Caution | To use this functionality, the Cinegy Player PRO license is required. Restart Cinegy Player every time this option is selected / deselected. |
Cinegy Player PRO Features
Advanced features are available with the PRO license:
Video output over SDI via Blackmagic or DVS boards.

Support for playing Cinegy MCRItem XML sequence files.

Export to Cinegy MCRItem XML sequence file from any loaded file.

Output of BXF Media Update message from currently loaded item.