NetPlayGUI
Reading time ~1 minutes
This utility is used for playing one or several RTP/UDP streams in the dedicated player window(s).
Run the NetPlayGUI support component to launch the Cinegy Stream Player utility:

Use the drop-down list to select the stream type – RTP or UDP and specify the IP address of the stream to be played.
| | |
| --- | --- |
| Note | It is possible to play multiple streams in different windows simultaneously. |
Select the "Fullscreen" checkbox for the stream to be started in fullscreen mode.
Select the "Re-use existing player window" checkbox to open every stream in the same player window. In this case a previous stream playback is terminated. If the option is disabled, every stream is opened in a separate player window.
| | |
| --- | --- |
| | Press the "Play" button to start the stream playback in the "NetPlay" window: |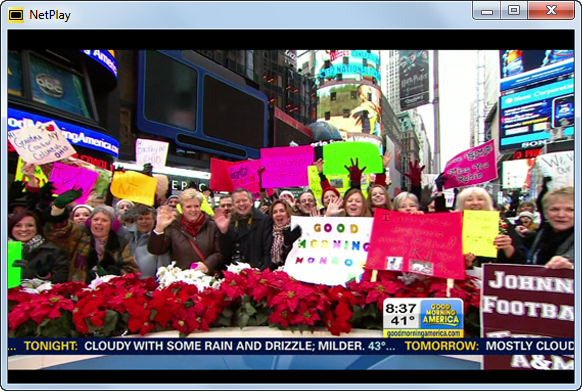 Hit the Esc or F12 keys to toggle fullscreen and regular playback mode.