Installation
Reading time ~2 minutes
In order to start the installation of the Cinegy Route components, run the Cinegy Route Setup.exe file from your installation folder. Your system will be checked if Cinegy License Service is installed on your PC; if it is not, its installation will start automatically: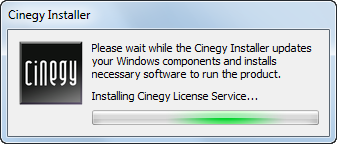 Once Cinegy License Service is installed to your system, the Cinegy Route setup wizard will be started: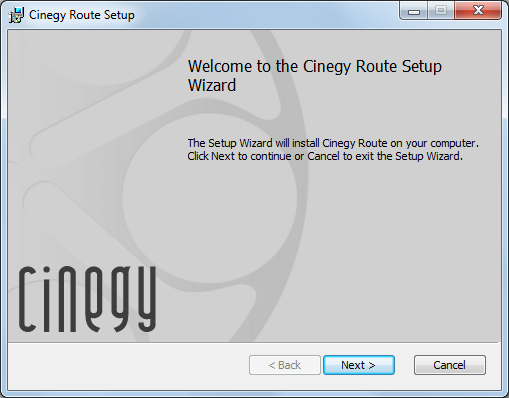 Press "Next" to proceed with the installation or "Cancel" to abort and exit the setup wizard.
Read and accept the license agreement.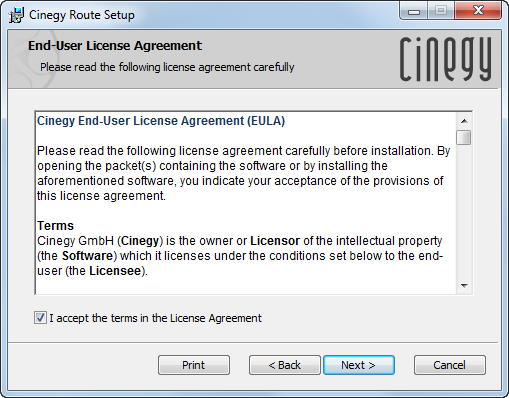 The following dialog box appears: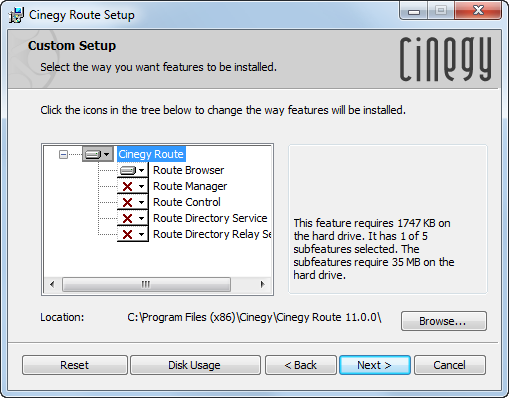 Press the "Browse" button to change the installation folder, if needed.
Select the components you want to be installed by clicking on the corresponding icon in the components tree and choosing the status for the tool.
Refer to the following table to get quick information about the tools:
| Component | Description |
| --- | --- |
| Route Browser | Automatically resolves the video streams names registered by Route Directory Service to the RTP/UDP URLs. Installation also enables browsing registered video streams and choosing them from Cinegy Air control panel. |
| Route Manager | Allows user to organize and set up physical sources and virtual destination groups used for managing and securing IP streams and channels registered by Route Directory Service. |
| Route Control | Used for switching sources of the virtual destinations with the ability to preview the incoming video for each virtual destination in real-time. |
| Route Directory Service | Registers and maintains records of video streams and virtual destination mappings. The server running this service is used by all Route-aware client applications to exchange data. |
| Route Directory Relay Service | Tracks changes in Route Directory Service and sends them to the broadcast clients via multicast transmission. Not required to be installed, and needed for larger-scale deployments only. |
Having selected the tools for installation, press the "Next" button to begin the installation. A progress bar will show the progress of the installation process.
Together with the selected Cinegy Route components, the following utilities are installed by default: NetCaptureGUI, NetPlayGUI, and NetSendGUI.