Server Security
Reading time ~2 minutes
The user permissions should be individually configured for all the sources being created via Cinegy Route Manager to secure the IP streaming management and routing from incompetent users.
To set up the Route Directory Service security, use the "Security…​" menu of Route Manager; the following dialog box appears: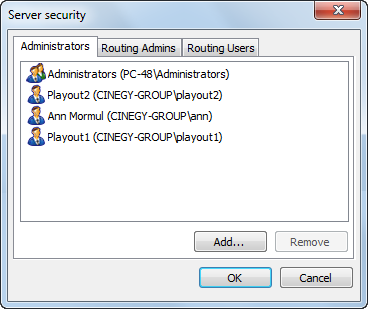 You can administer the user roles according to the tasks and actions permitted for the assigned users / user groups. The following user roles can be administered here:
Administrators;

Routing Administrators;

Routing Users.
If users not belonging to these groups and having not enough privileges to work either with Cinegy Route Directory Service or Cinegy Route Control try to connect to these products, the following error message appears:

Administrators
In the "Administrators" tab, all the Route Directory Service administrators are listed. The users of this group have privileges to administer Route Directory Service and work with the Cinegy Route Control and Cinegy Gateway products. When routing, all the channels locked by the administrator cannot be unlocked by users of other groups.
| | |
| --- | --- |
| Note | By default, the administrator role is assigned to the local administrator of the current PC. |
Routing Administrators
In the "Routing Admins" tab, all users and groups of users with the routing privileges are listed. The routing administrators control physical sources to virtual destinations routing except for the sources locked by the administrator.
| | |
| --- | --- |
| Important | Refer to the Locking paragraph of the Getting Started article in the Cinegy Route Control section for information about the virtual destinations locking. |
Routing Users
In the "Routing Users" tab, all users and groups of users with the limited routing permissions are listed. Routing users have no privileges to work with Route Directory Service and can route only the unlocked sources and sources locked by other routing users. All the sources locked by the superior user (either administrator or routing administrator) are not available for routing.
Server Security Management
| | |
| --- | --- |
| | Press the "Add…​" button to add a certain user or the whole group to the corresponding user group the same way as it is described in the Visibility Management article. |
| | Press the "Remove" button to delete the selected member from the corresponding user group. |