Browsing
Reading time ~1 minutes
Cinegy Route Browser is a useful tool for browsing video streams registered by Cinegy Route Directory Service and automatically converting them to RTP/UDP/SRT URLs.
To start Cinegy Route Browser, go to Start > All Programs > Cinegy > Cinegy Route > Cinegy Route Browser: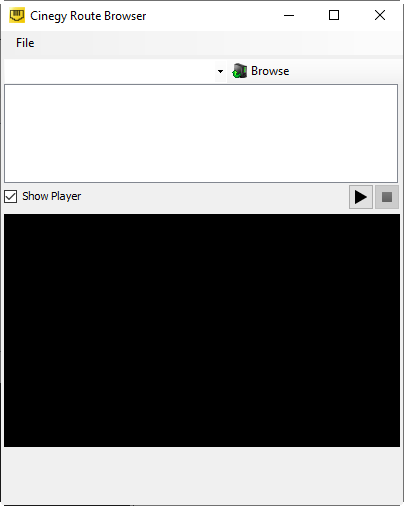 | | |
| --- | --- |
| | Choose the proper server from the drop-down list and press the "Browse" button to connect to the given Route Directory Service for browsing through the registered streams: |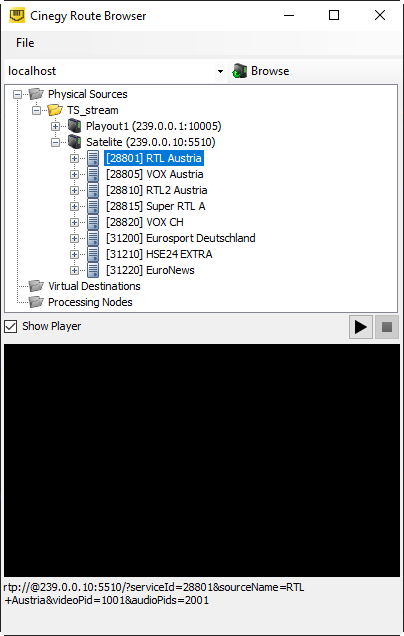 | | |
| --- | --- |
| Note | Only streams marked as "Visible" for current user will be available for browsing. |
Below the tree of the registered streams there is a player where the video stream of the selected network source is previewed.
| | |
| --- | --- |
| | You can start/stop the playback by pressing the corresponding buttons. |
| | To hide the player, remove the selection of the "Show Player" option. |
At the bottom of the dialog box you can see the RTP/UDP/SRT URL corresponding to the selected source or program.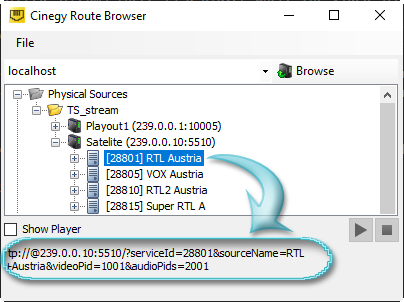 Route Browser supports direct drag-and-drop of the selected program into the Cinegy Air playlist (the corresponding live item will be created in this case) or into the text fields (a source RTP/UDP/SRT URL will be copied).