Overview
Reading time ~2 minutes
Modern broadcasters are now able to use Ethernet networks instead of SDI to transport video signals. Tempted by greater capacity, enhanced flexibility, higher quality and lower cost compared to expensive SDI infrastructure, broadcasters who make changes get greater benefits. However, it does not take long before the management of these IP video signals becomes challenging, and it only becomes harder once volumes increase.
Cinegy Route provides the ability to register and secure the details of all of these incoming signals inside the Cinegy Route Directory Service. Once registered, it becomes easy to deal with a huge number of incoming SD, HD and 4K network streams and satellite feeds simultaneously from client stations throughout the network – users can just browse through an organized tree of sources, preview them, and map these sources to 'virtual' destinations, in a manner familiar to anyone that ever worked with SDI routers.
Various pieces of Cinegy software make up the components in a typical IP infrastructure environment, allowing users to control, transmit and receive transport stream data over an Ethernet network.
A complete, complex solution implementing Cinegy IP infrastructure contains the following components and operations:
Registration and management of incoming IP streams for various purposes;

Browsing through registered streams and choosing services (e.g. inserting them as live items to the Cinegy Air playlists);

Organizing incoming IP streams by routing them into the virtual RTP/UDP/SRT stream sources via Cinegy Route Control (e.g. to change the input to a Cinegy Encode decoder);

Monitoring the state of multiple IP streams in real time (e.g. via Cinegy Multiviewer);

Using RTP/UDP/SRT streams as the live video input;

Converting incoming SDI signals to RTP/UDP/SRT streams and vice versa in real time via Cinegy Encode;

Ingest of IP streams into Cinegy Archive (e.g. by recording into Cinegy Capture PRO).
The following diagram shows a typical common configuration of the Cinegy IP infrastructure solution: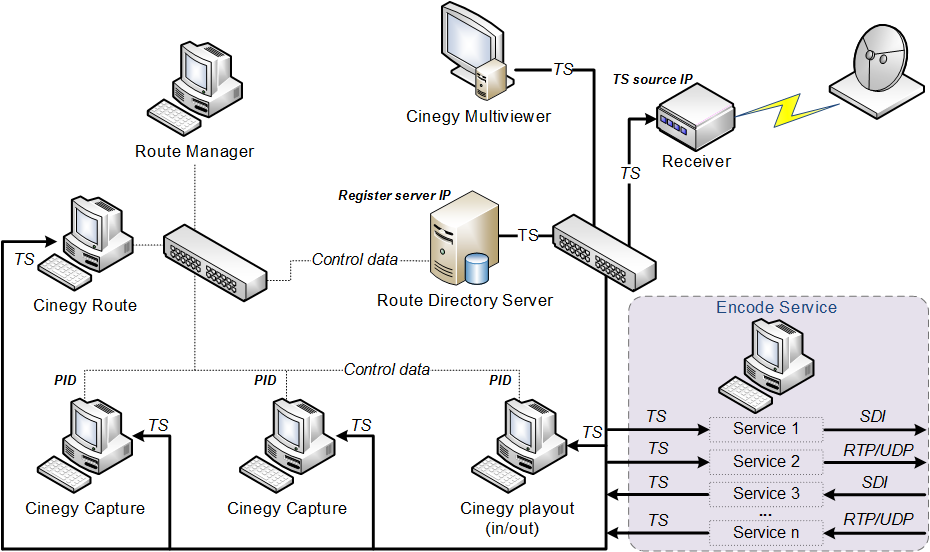 As shown in the diagram above, it is recommended to split the network into two independent subnets: one for IP streaming (marked as "TS" – Transport Stream) and the other for data transfer ("control data"). It is not absolutely necessary, but can generally make the system more stable.
Care must always be taken when designing video network architecture to reduce the risk of packet loss, and in critical cases where packet loss cannot be tolerated, we recommend using a primary and secondary network for video stream transmission failover.