Object Layouts
Reading time ~2 minutes
Cinegy Titler supports simultaneous broadcast of CG scenes with several layouts configured separately according to your broadcasting needs. You can add multiple layouts to the current scene from the list of available layouts depending on the original CG scene TV format.
Video Format
PAL
NTSC

Standard Definition

720x576 4:3 25 fps
720x576 16:9 25 fps

720x480 4:3 29.97 fps
720x480 16:9 29.97 fps

High Definition

1280x720p 25 fps
1920x1080i 25 fps
1920x1080p 25 fps
1280x720p 50 fps
1920x1080p 50 fps

1280x720p 29.97 fps
1920x1080i 29.97 fps
1920x1080p 29.97 fps
1280x720p 59.94 fps
1920x1080p 59.94 fps

Ultra High Definition 4K

3840x2160p 25 fps
3840x2160p 50 fps

3840x2160p 29.97 fps
3840x2160p 59.94 fps

Ultra High Definition 8K

7680x4320p 25 fps
7680x4320p 50 fps

7680x4320p 29.97 fps
7680x4320p 59.94 fps
Layouts Managing
To add a new layout, go to the "Layouts" main menu and choose the desired layout format from the "Add" drop-down list: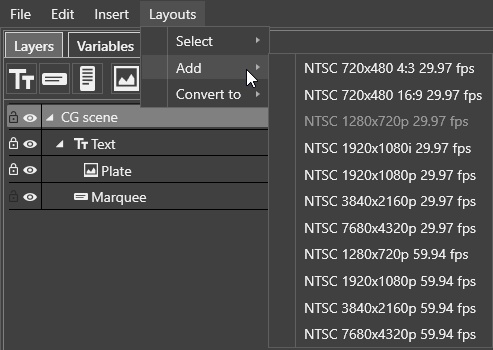 Or press the

button in the top right corner of the canvas panel: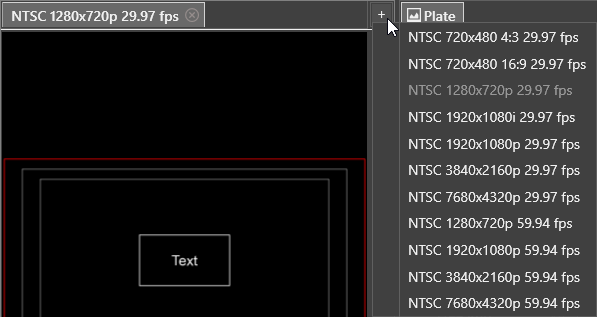 A new layout will be added, become active, and ready for further setup.
| | |
| --- | --- |
| Important | Refer to the Working with Objects article to learn about Cinegy Titler objects and their setup. |
To switch between the existing layouts, go to "Layouts" → "Select" and choose the desired one from the list:

Or simply go to its respective tab: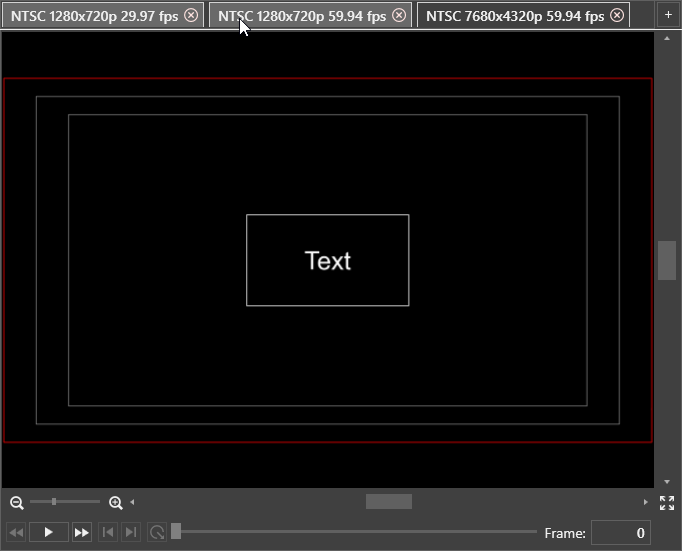 To delete the layout, press the

button on the corresponding tab.

The confirmation dialog box appears:

Press "OK" to delete the current layout or "Cancel" to cancel the operation.
| | |
| --- | --- |
| Note | The set of variables is common for all layouts. |
When the CG scene with multiple layouts is sent to playout, each layout will be displayed according to its preconfigured TV format.
Converting Layouts
The created layout can be automatically converted to layout of another format. For this choose the target format from "Layouts" → "Convert to" drop-down list: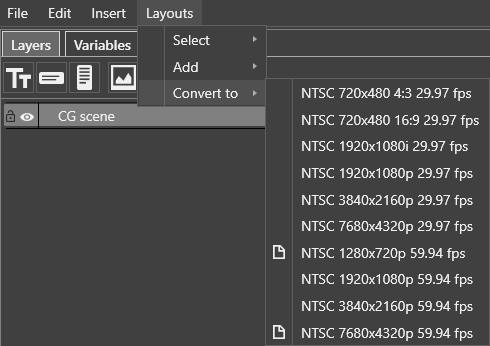 The new layout will be added to the template as a separate tab. The placement of the objects will be preserved and adjusted to the new format.
It is possible to have only one layout of each format within the template. The formats that are already used in the template are marked with a

sign in the "Convert to" drop-down list.
| | |
| --- | --- |
| Note | If you try to convert a layout to the format that already exists within this template, you will receive a warning message that content will be overwritten. |