Cinegy Convert Job Folders
Reading time ~3 minutes
General Concept
The Cinegy Convert job folder is a special type of folder in the Cinegy Archive database structure. Cinegy Convert uses different types of job drop targets for automated exporting, importing, quality building and other specialized tasks.
Structurally, all job folders are located in the special folder named "Job Folders" displayed in the Cinegy Workspace explorer tree: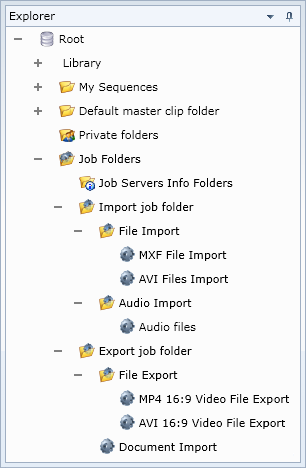 Each job folder contains a number of job drop targets and can be easily configured for particular purposes.
The export tasks can be assigned via drag-and-drop of clips, Rolls and ClipBins.
The jobs for import / ingest tasks are created by the Cinegy Watch Folder Service or via the Cinegy Import Tool.
| | |
| --- | --- |
| Tip | The nodes that have been inserted to the Cinegy Convert job drop targets for processing are read-only and cannot be edited or deleted. |
Workflow
To assign a new task, follow the steps:
Open a desired job drop target.

In the Explorer tree select the node to be processed.

Drag-and-drop it to the job drop target window:

The pop-up "Create Job" window will ask you to specify the job name. By default, the job creation date and time are used as a job name. Press "OK" to create the job.
As soon as a new task has been assigned, its processing is started automatically according to the predefined settings.
| | |
| --- | --- |
| Note | The nodes inserted to the Cinegy Convert job drop targets are read-only and cannot be edited or deleted until they are completely processed. |
The job drop target window consists of two parts: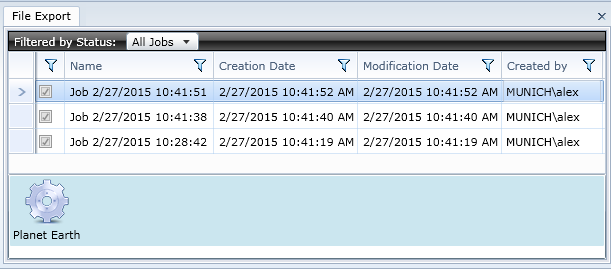 A job list on the top.

This list displays all the tasks created in the current job drop target. You can manage the tasks and sort them by their current status.

An object list on the bottom.

This list shows all the objects (clips, Rolls or ClipBins) included in the task currently highlighted in the job list.
Working with Job Folders
All the queued tasks that have been marked in the job list are now ready to be processed. The tasks can only be selected for processing in Cinegy Desktop. Having made any changes in Cinegy Desktop, you need to refresh the list of jobs in the web client. To do so, right-click anywhere within the job drop target window and select the "Reload" context menu command:

To delete the specified job, select it in the list and choose the "Delete" command from its context menu.
| | |
| --- | --- |
| Note | The job with the "Job in process" status cannot be deleted. |
The list of jobs can be filtered by their status. Select the required one from the "Filtered by Status" drop-down list: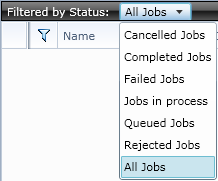 On the metadata panel the currently selected job metadata is displayed. You can edit the metadata field(s) by double-clicking them and specifying new values: