Getting Started
Reading time ~2 minutes
Introduction
Cinegy Workspace provides users with the ability to connect remotely through the Internet to their Cinegy Archive database in order to view and edit content in web format. The number of simultaneous connections to the Cinegy Workspace portal server depends on the server capacity and the network bandwidth.
| | |
| --- | --- |
| Caution | To work with Cinegy Workspace, you need to have the Cinegy Archive Service and the Cinegy Media Services installed. |
| | |
| --- | --- |
| Caution | Cinegy Workspace will not run without a hardware dongle. Please contact your local reseller to obtain one. |
Starting and Closing the Cinegy Workspace Client
There are two ways to start working with Cinegy Workspace.
| | |
| --- | --- |
| | Double-click the Cinegy Workspace desktop icon; your default web browser will start with the following address line: |
http://<Server_name>:<port>/
where <Server_name> is the name of the Cinegy Workspace portal server and <port> is the port number that was defined during the Cinegy Workspace installation.
<Server_name> can be specified as a host name or IP address. The same entry format should be used in all configurators due to the Silverlight URL Access Policy. It is preferable to use the host name for this parameter.
| | |
| --- | --- |
| Note | Ports for the Cinegy Archive Service and Cinegy Workspace (by default they are 8082 and 8085 correspondingly) should be open in the Firewall. |
The other way is to open your web browser and enter the same link in the address line.
Login
To log on to Cinegy Workspace, fill in your details in the login window: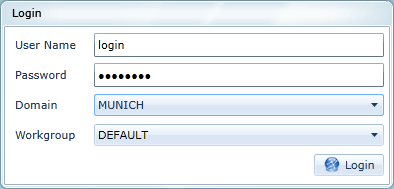 Enter your user name and password, then select your domain name and workgroup name from the corresponding drop-down lists; press the "Login" button. All the fields are mandatory for login to be successful.
Logout
To log off, use the "Logout" command from the "File" menu on the main toolbar:

Having logged off, you will see the logout window in your web browser. To log back in to Cinegy Workspace press the "Login" button on the "You are logged out" screen: